We wanted to share with others the thoughtful approach that the No10 digital team have taken to covering the recent tragic events in Woolwich on GOV.UK.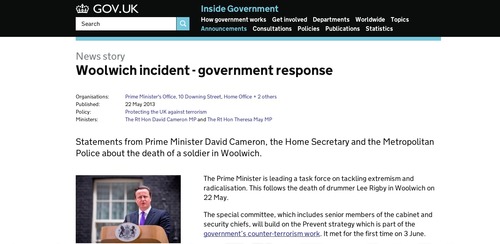 As the story unfolded, the team decided to keep a single landing page updated with the latest news.
This short, jargon-free, page helps add context to - and provide a single user-friendly route into - more detailed information elsewhere. A digest of the most significant news releases from across government appears towards the bottom of the page.
This landing page was consistently promoted from the No10 homepage, helping optimise it in search as a first place for a general audience to start.
The page also successfully puts the government response to this incident into a broader context - it links prominently though to the policy on counter-terrorism work, and to more information on COBRA.
One final tip from us - if you are producing a frequently-updated page such as this, please be sure to publish updates as 'major changes' and annotate them in publisher, so users know what's changed between editions.