The information in this blogpost may now be out of date. See the current GOV.UK content and publishing guidance.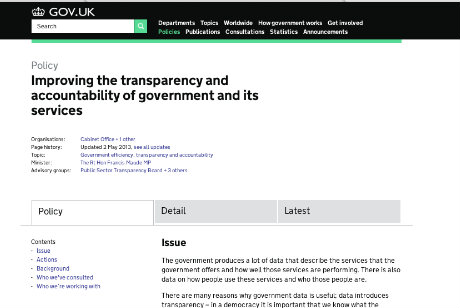 We've had a few questions recently about levels of responsibility for policy pages on GOV.UK.
So we thought we'd address them as a 2-minute-update here.
How policies work
The role of a policy page is to state, clearly and simply, the problem the government is trying to solve, the outcome it's trying to achieve and the specific actions it is taking to do so.
As such, policy pages provide an essential context for the news, speeches, and publications in the rest of the site. And they're popular with users - last month, there were around 750,000 page views of policy pages.
It's therefore vital that we ensure these pages stay relevant and up to date.
Updating policy pages
Policies should reflect everything that the government is doing on a particular issue - not just individual departments.
Each policy has an agreed editorial lead, almost always within a ministerial department.
It's the job of the digital team within this department to:
Ensure that policies keep pace with events -  if your department is producing a news release or publication relevant to a certain policy, make sure that the relevant policy is reviewed and (if necessary) updated at the same time

Coordinate internal approval - this varies between departments and the nature of each policy, but at a minimum the relevant policy team needs to ensure all policy updates are factually correct

Make sure that content updates are consistent with the GOV.UK style guide

Liaise with other departments on jointly-owned policies - if policies are jointly owned, the digital teams in the relevant departments must coordinate to ensure that updates pass through appropriate levels of approval.
Policy updates do not generally need to be checked by GDS - but, like all other types of content, they should always be looked at by 2 experienced content editors within departments before publication.
Policy updates don't have to be checked by GDS - but we're happy to advise
However, GDS is happy to advise on any aspects of policy - and can provide:
a summary of the policies for which your department is responsible, and details of the teams who signed them off on transition

advice on the level of approval for particular policies

impartial advice if there are differences of opinion between teams or departments on the content of policy updates
New policies and major changes to existing policies
You must talk to the GOV.UK team (via the internal support form in the first instance) if you are thinking of:
creating a new policy

making substantial changes to the content of an existing policy - for example, if the policy is changing direction, or if you're replacing more than half of the existing text

changing the name of an existing policy

deleting a policy or supporting pages
We'll discuss the reasons for the change with you, and help you make sure the policy changes are in line with style and don't duplicate anything going on elsewhere.
In some cases, we may need to flag new policies or substantial updates with the Cabinet Office, to ensure they're aligned with department business plans.