The Transition Tool will be offline for a few hours on Tuesday 28 October 2014.
What you need to know
Because the transition tool will be offline:
there will be no transitions on 27, 28 or 29 October
users will not be able to edit existing or add new mappings in the Transition Tool for a few hours on 28 October
users will still be able to access the tool and amend mappings on 27, 29, and most of 28 October
All existing mappings will continue to work throughout this time.
Why the tool will be offline
The Transition Tool has been used to transition over 650 websites so far and by December it will be managing around 1,000 websites.  The tool generates vital analytics for these websites so that users can identify and fix any missing mappings and look at how redirects and archive links are performing.
Given the critical importance of the tool to GOV.UK, we've taken the opportunity to review the underlying architecture to ensure it remains sustainable for many years to come.
Data from the Transition Tool shows us that traffic to old domains does not drop off as quickly as we first suspected.  There are still around 37,000 hits a day on the old Department for Comunities and Local Government (DCLG) www.communities.gov.uk domain, almost 2 years after the department became the first to transition to GOV.UK. The old MOD domain, www.mod.uk, still generates spikes in traffic of over 1 million visitors a day.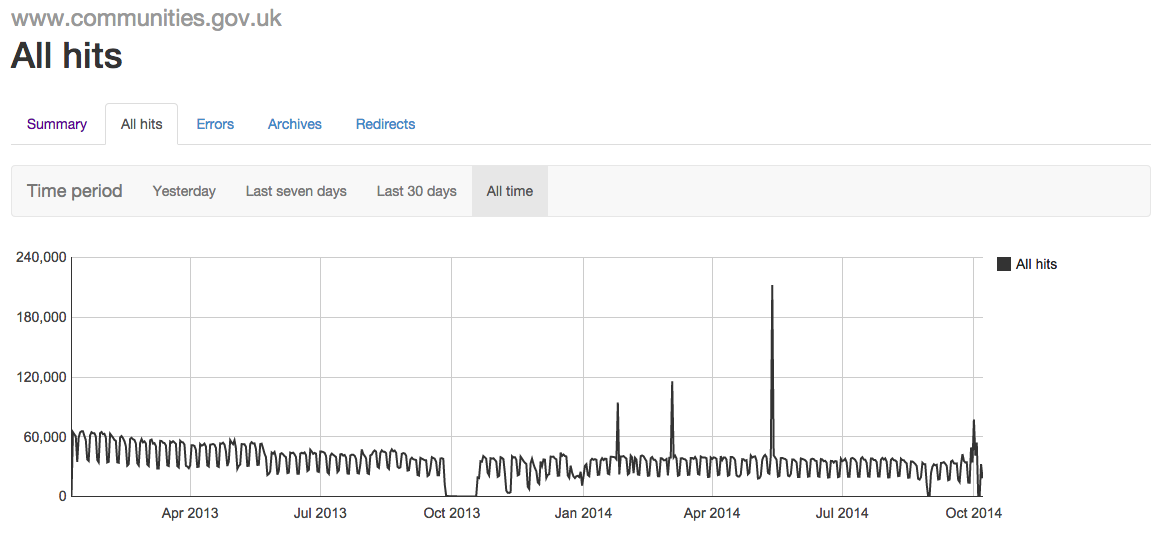 As well as those that have already moved, we are about to transition some huge websites to GOV.UK, including HM Revenue and Customs (HMRC) which alone attracts 3 to 4 million visitors every day. This means 2 things:
there's a lot of traffic that the Transition Tool will need to analyse
this traffic will continue for many years
A new database: PostgreSQL
To make sure the Transition Tool is sustainable in the long term, we are changing the underlying database to PostgreSQL. It is a popular, standards-compliant, open source database already used by a number of applications within GDS, including the Performance Platform.
We'll say more about our reasons for choosing PostgreSQL in a separate technical blog post.
We have developed a migration plan to ensure the smooth transition to PostgreSQL. Most of the work will not affect any users, but the migration does require us to swap over to the new database. This means the Transition Tool will be unavailable for a short time.
Part of the plan is to have a 'data freeze' to make sure no data is lost when we switch to the new database. This means no updates to existing data, ie making changes to existing mappings or adding new mappings. We will therefore prevent users accessing the Transition Tool for this period.
All existing mappings will continue to work throughout this time.
While that should be the only impact on users of the Tool, we would also prefer organisations not to switch off old sites and redirect to GOV.UK on the day before or the day after the migration to PostgreSQL.
We have proposed to do the migration when we believe there are no planned transitions, so the impact on all our users should be minimal.  This vital work will make the Transition Tool an application that continues to serve users' needs for the foreseeable future.