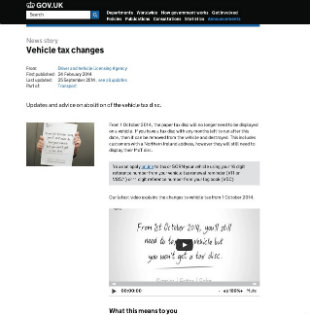 Government publishes lots of news. Every month, we add around 500 news stories to GOV.UK.
We know from our metrics that large numbers of people are reading news content - there are roughly 4 million monthly page views for news stories and press releases on GOV.UK.
Earlier this year though, we realised that we didn't know as much as we'd have liked about the needs of this audience, and what they wanted government to provide.
And so we set out to find a few answers, to inform the challenge of helping government adapt its news formats to a digital world.
User research: who reads news on GOV.UK
The first thing we looked for was a broad profile of the types of users who came to our news pages.
To get this, we sent out a short survey to subscribers to our news email alerts - a group with particularly strong needs for government news.
The answers, from more than 2,000 respondents, revealed the biggest user group to be government itself - central and local. There were also significant numbers of subscribers from private sector, academic sectors, or for personal interest.
Media organisations - the people who publish news about the government, and for whom much government news is written - represented about 14% of the news audience.
Profile of subscribers to GOV.UK news alerts

government 26%
private sector 21%
media 14%
personal interest 14%
academics  7%
other 14%

(based on answers by 2,300 news subscribers to a GOV.UK survey, January 2014)
What users want government to provide
In our follow-up research, we carried out 11 one to one interviews with a selection of survey respondents, concentrating this research on non-media audience groups (see section on media needs below).
Our researchers discovered a remarkably strong consensus about what interviewees said they needed from GOV.UK. They grouped these needs around the following themes:
An information source for work
For most users, government news updates were a crucial information source for their job, with many oversubscribing to make sure they miss nothing.
"Without government updates I would find my job very difficult"

Deputy Headteacher
Straight facts, not bias
Users just wanted straight facts from the government. When these are mixed with government narrative, they spend time picking out the facts.
"I want a record of events, not an opinion… I prefer to read bald facts"

Personal interest user
In-depth, practical information
People wanted practicalities, and felt that stories often didn't go into enough depth or provide the right sort of information
"I want to know practical information... will there be new forms to fill in or documents to read?"

Chief NHS Pharmacist
References and supporting facts
Users wanted to know more about the background to a story - for example, what informed a decision, how has it changed, where the references were.
User needs are more to do with 'what's new' than 'news'
To all these users, finding out 'what's new' from government seemed much more important to people than 'reading the news'.
They wanted practical, usable updates from government about changes to schemes or issues in which they had an interest - and following news on GOV.UK was simply a means to this end.
Nobody we spoke to wanted to browse GOV.UK (in the same way they might follow the BBC, Guardian or Times) for pleasure or generally to keep up to date with events.
Also, they tended not to notice - or care about - the format in which these updates were presented. They just wanted to know they had all the information. In this regard, some people expressed frustration with the way in GOV.UK currently separates out news stories and press releases.
"It doesn't matter about the format as long as it has the information"

Criminal Justice Lecturer.
Analytics data: practical updates are the most popular
Analytics data tended to support what we found in the interview sessions.
When we reviewed the most popular news stories published in specific months, roughly 80% of stories involved the presentation of factual information which came uniquely from government.
During June 2014, for example, the top stories were about passports and the national minimum wage. At times, these could get pretty granular (eg, remote payment for the Dartford crossing).
And our news page on tax disc changes has had more than 2 million pageviews so far - by some distance GOV.UK's most popular news story ever.
Learning more about media needs for news
In this research, we concentrated on uncovering the needs of the 86% of the GOV.UK news audience who were from a non-media background.
Government press offices expressed the view that media needs for news from government were often discrete (eg, for press releases in advance of an official announcment) and primarily addressed via non-web channels - email, phone briefings, social media, with GOV.UK only playing a minor element.
We'd like to do more to properly understand and respond to this set of needs - we're hoping to take this further with the help of the Government Communication Service.
Where next with news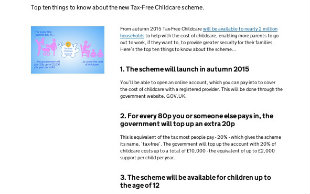 The user feedback we heard underlined the importance of GOV.UK's commitment - expressed in our proposition and elsewhere - to provide people with fast, practical, clear and high-quality content about things that are important to them.
We'll be following up in a number of ways.
First, we'll be testing the extent to which audience needs for topical updates on a particular area matches with the wider needs for 'specialist' content on GOV.UK. This may involve some rethinking of our news formats.
Second, we'll keep working with content teams across government to ensure that news content is in line with what users need, and trying to share what works. For example, we think HMT's news article about tax-free childcare showed how a factual, clear style can still be engaging - and we're happy to advise others who'd like to try similar approaches.
Finally, we'll be working very closely with government digital teams and the Government Communication Service to explore how we can support government's move beyond a 'press release by default' culture, and in doing so map out the type of news service that GOV.UK should offered in future.
Keep in touch. Sign up to email updates from this blog, or follow Graham on Twitter.