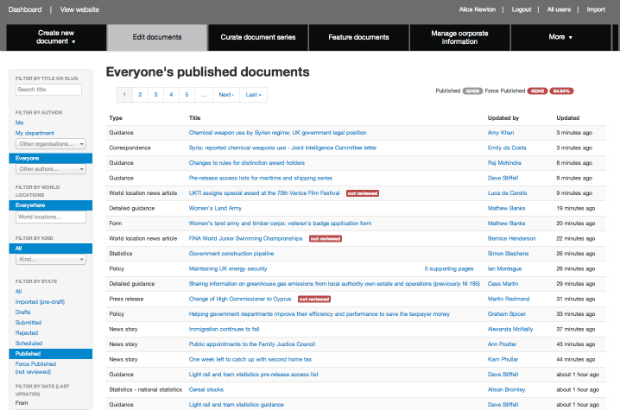 We've made some big changes to the government publisher today, with the aim of making life easier for editors and improving the quality of publishing on gov.uk/government.
Firstly, there are 3 new filters on the left hand side of the documents list:
* document sub-type (policy papers, press releases etc)
* date last updated (from, to)
* 'force published' - so you can quickly find the documents that need to be reviewed
A second change is to the top-level navigation. We have redesigned it so that the options are more clearly laid out, and the things you need to use most often are easier to see and access. Most of these changes are in response to feedback from our editors. For example, people said that the very small + button for adding new documents was hard to find, so now there's a much bigger button called 'Create new document'.
We've also changed the page you see prior to editing or after saving the document. The purpose of this page is to allow you to review the content and its history, as part of the editorial workflow. The old design was confusing and contained lots of superfluous information in tabs no one ever opened. Even worse, it included what seemed to be a view of the full body text and how it would appear on the site, but it missed out certain sections - for example, on a consultation, you wouldn't see the public feedback or outcome of the consultation content.
In our new design, as with the top-level navigation, we've tried to optimise for the common case. This page should give editors just enough information about the document - from the title, summary, history or change notes - to allow them to decide whether to preview it on the site, or start editing it. We've also renamed some of the buttons to be clearer, so for example 'submit' now says 'submit for 2nd eyes', and the button formerly called 'delete' is now 'discard draft'.
We were out on the road yesterday testing these changes with some departmental editors. This showed us that we're on the right track with our changes, although we know there's more work to do and there are further changes in the pipeline. We'd be glad to have feedback on any of these changes and do get in touch if you'd like to be involved in user-testing.