GOV.UK celebrates its first birthday today. We've written about some of the most interesting data we've seen this year in the run-up.
GOV.UK averages over 6 million unique visitors per week and over 9 million visits.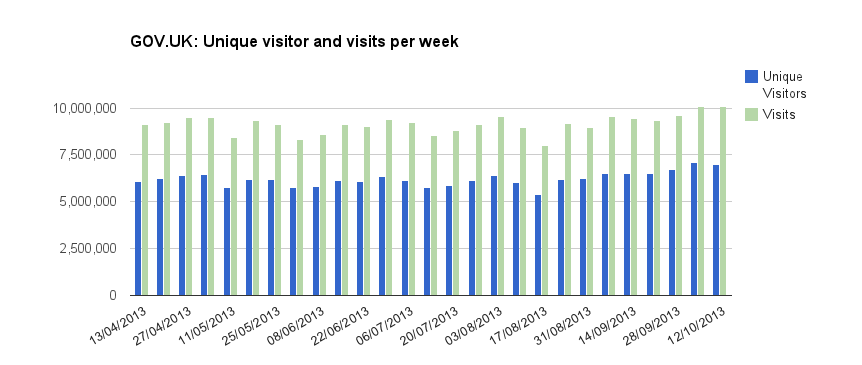 That's twice as many visitors as the population of Wales - which was 3,063,456 at the 2011 census.
That's an impressive figure, that's still impacted by events. For example, notice the dip in August - when people were on holiday - and the peak (over 7 million visitors) during the recent Royal Mail share offer. But most analysts would want to make a caveat about counting visitors and give readers a quick introduction to digital analytics.
The difference between visits and visitors
Like most websites, GOV.UK sets cookies to anonymously track site usage. This provides lots of information about how people arrive at and interact with GOV.UK, but there are caveats.
Analytics measures 'visits' and 'visitors' to a website. One visitor can make several visits. If they don't interact with a site for a while (30 minutes is the default setting), when they return it's counted as a new visit.
The trouble with measuring visitors is that the same person might visit GOV.UK on more than one device (at home, at work, on a mobile phone, and so on), which means they're counted as a separate visitor. Even on the same computer, a user might delete their cookies or use a different browser, meaning that they're tracked as another visitor.
That means that the unique visitors figure is fairly accurate when you look at a single day but gets less reliable as the time period increases. For this reason, we focus mainly on visits and pageviews (how many times a page was viewed) rather than visitors when we're analysing our traffic trends.
If you'd like to see the data, download this csv file.
Follow Peter on twitter: @peterbjordan