The information in this blogpost may now be out of date. See the current GOV.UK content and publishing guidance.
We've introduced publishing workflow to corporate information pages, for example, 'working for...', 'procurement at...' and 'media enquiries'. Previously, any changes you made to these pages would go live immediately.
If you click on the 'corporate information' tab at the top of the publishing tool you'll see which formats now have a workflow.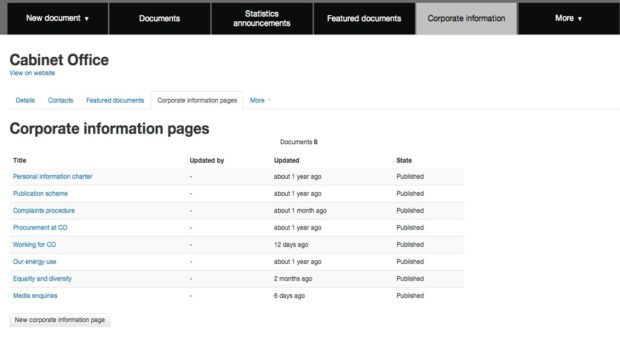 Check yourself
This means you can make changes to those pages without them going live straight away. More importantly you can now use the publishing tool to help you get any changes checked by another editor before you publish.
We've done this to allow departments and agencies to have better visibility and control over this important content.
This is how we do it
It works in exactly the same way as other document types:

Just create a new draft of your published document, send it to 'submitted', get it checked by someone else and publish it. You can leave notes, reject drafts, see who made which changes and all the usual stuff. After it's published you can find it in the 'documents' tab, as you would find publications and detailed guides.
Big but...
There's currently a bug which means you can't unpublish or archive these pages. We're working on fixing that very soon. If you need to unpublish or archive anything in the meantime, raise a Zendesk ticket.
Coming up
In a future release, we'll be adding a new corporate information page called "what we do", which will add workflow to the "about us" information.
As ever, let us know what you think in the comments or through Zendesk.
Keep in touch. Sign up to email updates from this blog