The information in this blogpost may now be out of date. See the current GOV.UK content and publishing guidance.
We've recently upgraded the 'featuring' interface for GOV.UK publishers. For the first time, you can promote items that live outside the 'departments and policy' section of GOV.UK - such as blogposts and services. We've also improved the way you can search for items to feature.
This blogpost tells you what's changed, and what you'll now be able to feature.
Where you can 'feature' things
Four different types of page allow you to 'feature' content items in the bank of promotional slots at the top of the page:
Up until now, these types of pages have all had slightly different featuring interfaces, and different things you could feature. We've standardised all of these, and improved the user interface across the board.
What you can feature
As was previously the case with organisation pages, you can feature:
content items that exist within the Departments and Policy area of GOV.UK (eg, items within Publisher)
topical events (e.g. the Budget)
However, you can now also feature links to destinations and content types that sit outside Publisher. These are:
There are a couple of restrictions on the featuring of destinations outside GOV.UK:
you can only feature links to .gov.uk domains
the majority of your featured links should point to destinations within GOV.UK
There are 6 promotional slots available, but you don't have to use all of them.
Next steps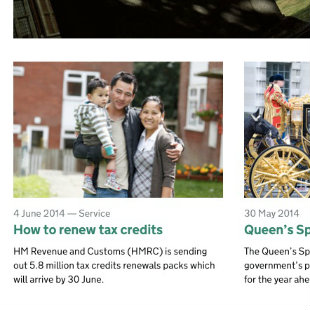 Go play. Tell us what works, and what doesn't. As always, we'll be looking to learn from your feedback.
We'll feature examples of things that people are trying out on this page (e.g., see HMRC's promotion of tax credits).
Oh - and while you're making changes to your promotions, perhaps take the opportunity to:
Keep in touch. Sign up to email updates from this blog, or follow Graham on Twitter.