The information in this blogpost may now be out of date. See the current GOV.UK content and publishing guidance.
One of the principles behind GOV.UK is that users shouldn't need to know what each government department or agency is responsible for in order to find the information or service they need.
In the main, that still holds. However, there are a small number of agencies and arms-length bodies that the public closely associates with the services they provide. People will look for these agencies first, then their services.
The first evidence for this was when the Driver and Vehicle Licensing Agency (DVLA) transitioned to GOV.UK. We soon noticed that a very high proportion of the searches starting from the new DVLA homepage were for that agency's services, eg "driving licence" and "theory test". Subsequent user research showed that people could see no obvious way - apart from search - to get from the DVLA homepage to its services.
Our solution
To start addressing this, we've released an alternative organisation homepage layout that expands the top tasks unit, allowing editors to provide an additional 6 links and giving them the full visual focus of the top of the page. The DVLA is already using it: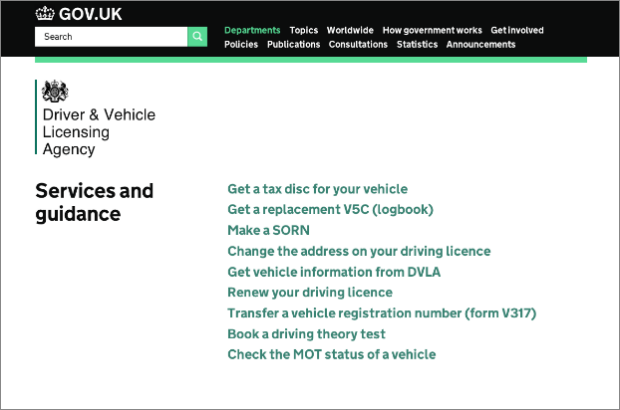 We did of course do user research before settling on this particular layout, and we'll keep a close eye on how it gets used and iterate as necessary. What we expect is a reduction in the number of searches for DVLA services and a high number of click throughs instead.
We're also working on a way to allow visitors to organisation homepages to quickly view all the services and information provided by that organisation (in addition to the curated list of top tasks). We'll be building that feature into both homepage designs.
Using the alternative layout
The alternative homepage layout is intended for organisations that have very little (if any) news, publishing or policy activity, but a high volume of users with very specific, service-oriented needs. The DVLA is a good example (which is why we've introduced it for their page first), but for DFT it wouldn't be suitable.
If you think your organisation would benefit from this type of homepage layout, please raise a Zendesk ticket.
There are a few things to bear in mind:
only GDS editors can add these services and guidance links
you'll need to have between 4 and 10 services/guides to link to
you'll need to remove your top task links and reduce the number of featured items to 2
Keep in touch. Sign up to email updates from this blog, or follow John on Twitter