We're shortly releasing an update to GOV.UK search that we are calling 'unified search'.
This update presents search results from all of GOV.UK in a single list, rather than the tabbed page layout separating the 'Services and information' content from the 'Departments and policy' content. It also introduces a more intelligent organisation filter which lists only the organisations responsible for content returned in the results, as opposed to listing all 870 organisations all of the time.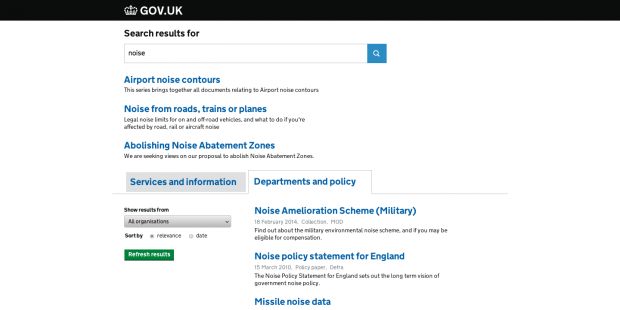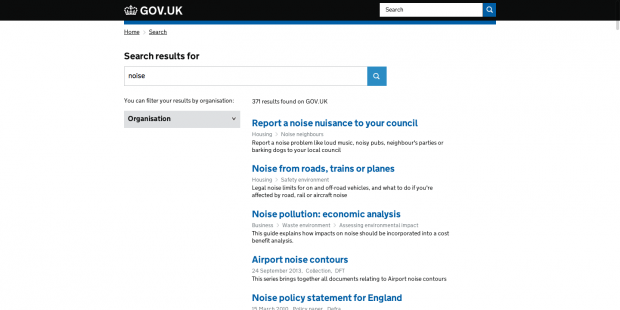 We know through user research that the tabbed layout has not always been well understood, and separating the results in this way makes it harder for us to improve the search experience. Having the results presented as a single list makes it much easier to iterate the design and algorithms that form part of the search experience.
We hope to release this update very soon, but if you would like to see what the new design is like in practice and help us improve the results, you can access unified search at the following URL: https://www.gov.uk/search?ui=unified&q= (it's hidden behind the 'ui=unified' parameter at the moment).
If you spot any results that don't make sense (and you probably will, as we are still tweaking how results are generated), please let us know using the unified search results feedback form. This will allow us to look into why a certain search term might not be returning the most useful results and, if necessary, make a change to the algorithm. If you are unable to access the form, please submit feedback via the usual support tool.
We are keen to get this released as soon as possible so we can learn from real performance and usage data. For this reason, the option to sort by date has not yet been included; it was rarely used (0.2% of all searches), but may be supported later. There will be many other improvements to come, based on user research and other feedback. This is just our next iteration of the search experience.
In the meantime, please do let us know what you think. Are there any search results we can improve in unified search?
- Access the new design: https://www.gov.uk/search?ui=unified&q=
- Search results feedback form: http://bit.ly/UnifiedSearch