Public Health England (PHE) is well underway in transitioning it's numerous legacy websites. With support from GDS we're transforming our content to meet our users' needs.
I'm no stranger to transition. I've done it before with the Medicines and Healthcare Products and Regulatory Agency (MHRA). But it doesn't make it less of a challenge. Well, at least that's what I've discovered since I joined Public Health England (PHE).
PHE came into existence in 2013. It brought together a number of public health organisations, and  exists to protect the nation's health and address inequalities. This has meant we have inherited a large number of websites that come in all shapes and sizes, covering a wide range of subjects in public health, from the chemicals used in pesticides to the medical effects of air pollutants.
When all executive agencies were mandated to move their websites to GOV.UK in 2014, PHE successfully transitioned the Health Protection Agency along with several of their public health committee websites.
But this was only the tip of the iceberg.
The journey so far
When I joined PHE 18 months ago we had more than 90 websites left to transition. I'm pleased to say we've since reduced this number to just over 70 after transitioning our cancer and non-cancer screening websites and our local public health observatory sites. But this number is not set in stone because we seem to discover new websites every week!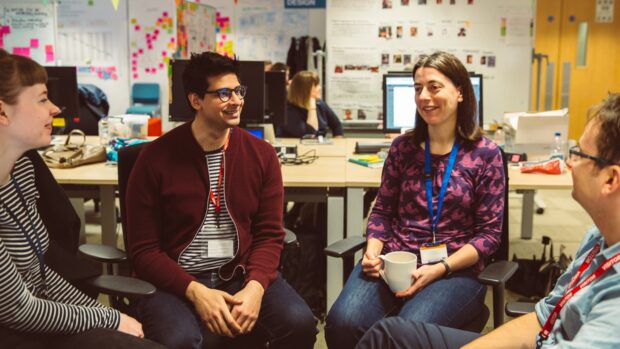 PHE and GDS working together
GDS has been supporting us with our transition. It's been a great opportunity for us to learn from each other. In true agile style, every fortnight we meet for sprint planning sessions and retrospectives to ensure we're making progress.
In addition, PHE and GDS content designers work flexibly together, working at each other's office at least one day a week. If more face-to-face contact is needed, they adjust accordingly. These and other efforts to improve communication have seen the team develop strong working relationships and excellent working practices.
PHE and GDS have also been working together on a programme of education around user needs. Before Christmas PHE ran a user needs event where GDS shared the findings from their International Discovery work. And last month, GDS ran 2 user needs workshop days with a number of our legacy site owners to demonstrate why we put users first and how best to do this.
Changing mindsets
I'll be honest – it's not been easy to convince everyone at PHE about the benefits of transition. But by working with the transition team at GDS, we've been able to find solutions together to help assist and support our legacy website owners through the process. It's also generated healthy debate about how we can improve the content we provide for our users.
Director of Knowledge and Intelligence at PHE, Peter Bradley, said of the transition process: "It has been really challenging but our perceptions have shifted so we are even more aware of what our users really need to support their decisions."
Transforming the old to the new
It's a common misconception that transition means 'lifting and shifting' content as it currently exists onto GOV.UK or the most appropriate channel. This is not the case. Any content that transitions is reworked to meet user needs and, if it's to be published on GOV.UK, to fit with style.
In fact, transition should be viewed as an opportunity to provide information to users in the simplest and easiest way by meeting their needs. It paves the way for creating and building better digital products and is an opportunity for teams within PHE to break down silos and begin working together across topic areas.
We're already doing this on the topic of obesity. We've scheduled a workshop to bring together different obesity teams within PHE and the Department of Health to encourage them to work more collaboratively on their content.
What's next?
We're currently transitioning the next round of websites, some of which we're working closely on with GDS. We've completed our discovery and user needs mapping phase and we're now starting to work on content mapping. It's a period of intensive work but it's also exciting to take bold strides towards our digital and organisational transformation.
Rosanna Alam is the product manager for transition at PHE. For more information about the PHE project you can contact her at rosanna.alam@phe.gov.uk.

For more information about the GDS transition programme contact govuk-enquiries@digital.cabinet-office.gov.uk