The information in this blogpost may now be out of date. See the current GOV.UK content and publishing guidance.
With the Wales Office's move to GOV.UK imminent, we've been working on the ability to translate various bits of content across Inside Gov into Welsh.
So far, we've added support to translate any news article, speech, case study or publication document into Welsh (or indeed any of the other 44 languages we're already supporting for the forthcoming Worldwide section).
To do so, first create and save the document in English and then click on the 'translations' tab to add a translated version.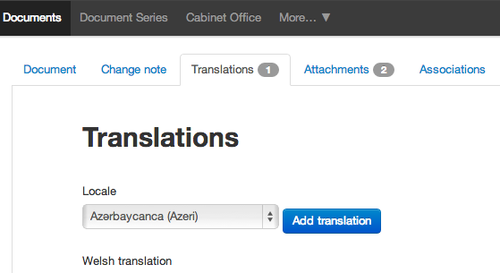 Having entered and saved a translated version, a toggle will appear on the published page like so:
It's also now possible to translate an organisation's homepage and about page into Welsh. (We don't expect anybody other than Wales Office to make use of this feature, and you should contact us if you want to know more about it).
Coming soon we will also be adding the ability to translate corporate information pages on organisations. We expect that every organisation will use this to provide a Welsh version of their Welsh Language Scheme.
(Note: It is currently not possible translate detailed guides, consultations, statistical data sets or fatailty notices; nor is there a story on our backlog to support that. If you have a need for translations of these document types, please tell us).