The information in this blogpost may now be out of date. See the current GOV.UK content and publishing guidance.
We told you not to use HTML publications until they were a bit more developed.
They are now a bit more developed.
The format is still at the alpha stage but there is enough functionality built and working for you to start using it now.
Here's an example from DH, who made the very first use of the format on their launch day on Tuesday: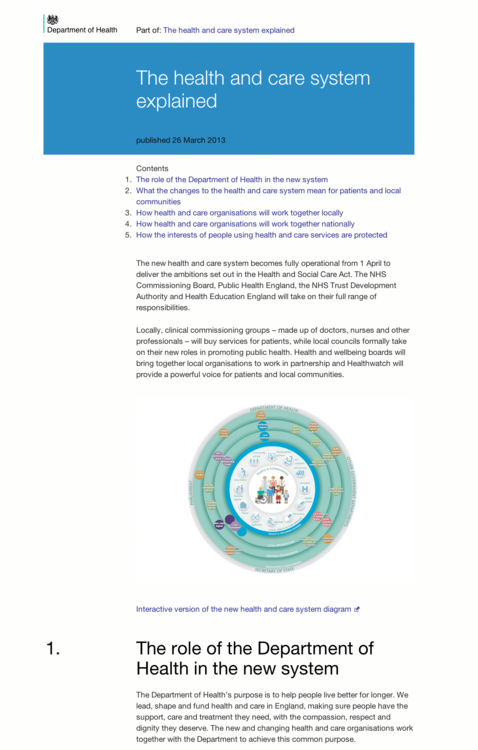 What are they?
HTML versions of publications are a digital-by-default alternative to the PDF/RTF/Word file attachments on a publication page.
They should only be used to create genuine publications - that is: stand-alone, date-stamped documents, matching one of the publication sub-types (eg policy paper/statistical release), intended to be consumed as separate products as opposed to being part of the GOV.UK site. Typically they have an ISBN or other reference number. Sometimes they can be ordered in hard copy.
We'll be keeping an eye on the use of the format and reserve the right to delete content that does not meet the criteria above.
What's the difference between an HTML version of a guidance publication and a detailed guide?
Detailed guides are part of the GOV.UK website, and should be constantly maintained for accuracy and improved based on user insight. They can be found by browsing through the main GOV.UK category navigation. They provide guidance to help a user complete a task.
Guidance publications (be they HTML or PDF) are separate documents, designed to be consumed as stand-alone products, are a snapshot at a point in time, and are rarely or never updated. They can be found through the Departments and policy section of GOV.UK.
How to create one
Setting up an HTML version of a publication is as simple as completing the "HTML version title" and "HTML version body" fields on a publication document.
The HTML version of the publication will automatically appear at the top of the publication page, above any other attachments.
You can add inline images, inline links etc to them just as you would any other document.
Changes yet to come
We'll continue iterating to make both the publishing interface and front end experience better.
Things on the list include:
using Transport typeface instead of Helvetica
making the link back to the parent publication clearer
improving in-page navigation
support for multiple organisation logos
adding markdown preview to the body field
adding full page preview
And we'd love your feedback about what else we might need to do to make this work for you and your users.