For the first 5 months of Inside Gov's young life, organisations have only been able to feature 5 links to the social web in the 'follow us' section of their respective homepages.
They were able to link to one account each on Twitter, Facebook, YouTube and Flickr, with a 5th slot for linking out to a blog.
Here's one FCO made earlier: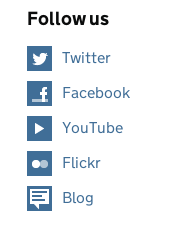 That's all changed, now, with the introduction of more flexibility than you can shake a stick at.
Organisations can now add an unlimited number of these 'follow us' links, specifying the link text and selecting the appropriate icon to display from the following list of (mostly!) popular services:
Twitter
Facebook
Flickr
YouTube
LinkedIn
Google+
Foursquare
Pinterest
Email (for linking to service alerts not provided by Inside Gov)
Blog/other (this displays a generic speech bubble icon)
The frontend displays the first 5 links, with a '+ others' link to reveal the rest. Here's one DSAmade earlier:
Which expands when you click the + others link to look like this: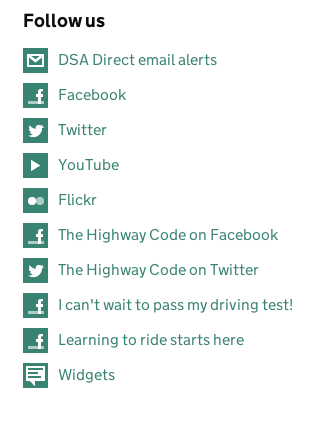 So there you go, knock yourself out. We welcome your feedback, as ever, and will keep looking at the evidence of how users are interacting with these links and share anything we learn.