The information in this blogpost may now be out of date. See the current GOV.UK content and publishing guidance.
Liz Hitchcock in the Inside Government content team has asked us to update you on the process for removing content from the frontend…
To have content unpublished or deleted send your request via https://www.gov.uk/support/internal.
When you submit a request, please specify whether you are requesting something is unpublished or deleted:
Unpublishing reverts the document to draft state, and you can then edit and re-publish it at the same URL
Deleting sends the page to the eternal void, but you need to specify a redirect that duplicates or supersedes it
In the case of deletion, can you also specify:
the replacement GOV.UK URL
whether this is a duplicate or superseding content
whether you want the redirect to be automatic or via a screen that explains the content has been replaced and the reason (not editable, this is a pre-worded)
The post-redirect screen looks like: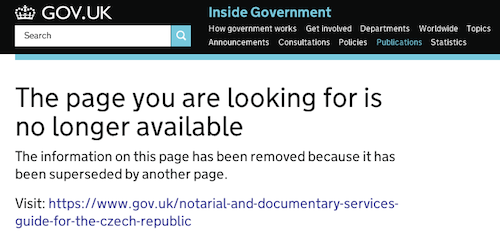 The post-deletion screen looks like: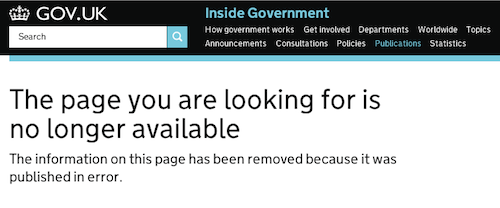 We'll aim to action the request within a [working] day.
Needless to say permanently 'disappearing' stuff that's been published doesn't win any friends with users. So although we can do it for you, we'd rather not do it all.