The improved GOV.UK site search has been up for a few days now.
It makes things better for users by headlining the top 3 search results, then showing the rest under just 2 tabs. 'Services and information' shows all the mainstream content and the detailed guides.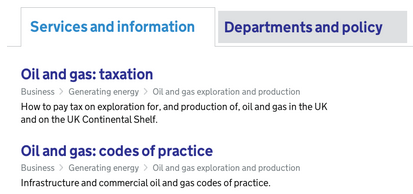 When you click on the 'Departments and policy' tab you get results from Inside Government - including all the corporate pages, organisation pages, people, document series, policies, publications and announcements.
You also get a department and agency filter, so that you can cut the results down to 1 organisation's output.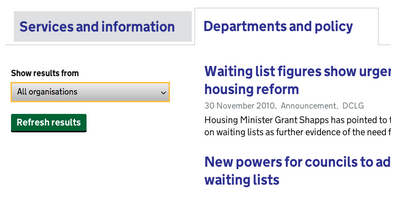 This is the first time the organisation filter has been shown in the general site search and should offer a big improvement for users who need specific content.
We thought this would be a useful time to recap on how search works, as this too has improved since launch.
The search goes through the document, attaching a weighting in this order:
title
summary
body (including sub-headings) + titles of all attached documents
Multiple word searches will return results that contain all or at least some of the words, weighting results where the words are grouped together.
Page titles and publication titles
It's worth emphasising that the titles of attached files are indexed by search. This means that publications and consultation pages can be given titles and summaries in plain English, without penalising users who search by the exact publication title to find the right page.
So there's absolutely no excuse for page titles that replicate unfriendly document titles, like this one:
Publication
Evaluation of the Joint Financing Arrangement II (JFA II) Support of Pooled Fund Partners to the 2010–2012 ECA Business Plan
Please aim for plain English titles like this:
Publication
Evaluation of joint financing for UN Economic Commission for Africa
We'll keep updating you as we make more improvements to search.