Yesterday was the start of a new sprint. (We plan our work in weekly sprints, which run from Wednesday to Tuesday).
The theme of this week's sprint is transition prep. Bar a handful of other stories (eg to fix a few bugs and to iterate the topical events design) this sprint's stories are all about building out a new "transition tool".  You can view the stories here.
The transition tool will automate a lot of the work that was done manually for the 24 departments, by providing a clear view of a transitioning organisation's DNS status and redirects, and providing self-service tools for fixing broken redirects.
The tool will be vital to the next phase of the transition programme which will see nearly 300 agency and NDPB websites join us in the space of a year. It's also something the live departments need now, to repair redirect mappings that are missing or broken.
So that's why it's our top priority.
As it stands, it looks like this: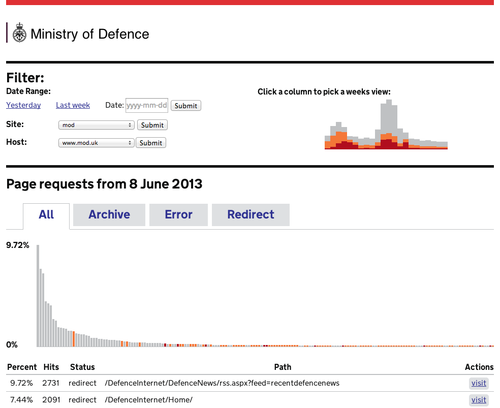 Currently this is just a view of the data. The work for this week includes beginning to get data into the tool automatically and enabling organisations to edit it.