New 'force publish' tracking
As most of you are now probably aware, there is a new prompt when anyone force publishes content.
This feature (which went live as last week's newsletter went out) means that anyone who has to force publish an item can explain why that's the case. This comment is then added to the 'Notes' tab.
It should be a useful audit tool and help writers and editors keep track of any work that hasn't had the 2i treatment.
New 'compare versions' feature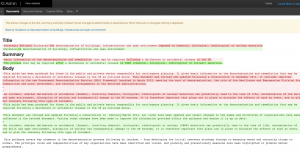 Another new feature allows you to compare the latest version of a document. The screenshot below shows how changes are highlighted if you click on 'Compare with previous version' in the 'History' tab of a document (with red showing the previous version and green the newly edited version of the text).
So, you could pick up from the force publish note that something has been published with no 2i done, then check what the changes were by comparing versions.
Please let us know how you get on with this - and with any of the other changes mentioned here.