We have evangelised about the importance of analysing search data to help define user needs and measure the effectiveness of GOV.UK content. Unfortunately, one of the most important sources of data is drying up: what people searched for in Google to reach GOV.UK.
The problem
In 2011, Google stopped providing search term data from anyone signed into a Google service.  The most obvious issue is the rise of the '(not provided)' keyword referrer in analytics. The Firefox browser also configured all searches to be  https (secure) by default, further adding to the issue. Many of us will have seen '(not provided)' prominent in the list of keywords.
This week, search engine optimisation (SEO) blogs are reporting that Google is now directing all traffic to the https (secure) version of its site, meaning little or no search data will be available from now on. Search Engine Land reports:
This Month: Secure Searching Being Made Default For Everyone. Now, Google has flipped on encryption for people who aren't even signed-in. When asked about this last week, Google confirmed the shift, saying:
We added SSL encryption for our signed-in search users in 2011, as well as searches from the Chrome omnibox earlier this year. We're now working to bring this extra protection to more users who are not signed in.
To clarify, this is not a Google Analytics issue, it  affects all analytics tools as  Google is no longer passing the search term as part of the referral string.
Now, search generates 73% of visits to GOV.UK, and the great majority of this comes from Google; 91%, compared to 4% from Bing and 2% from Yahoo! So we're potentially losing a lot of useful data.
For 24 September, we saw '(not provided)' for 79% of visits from Google search. We're still getting data from other search engines such as Bing and Yahoo!, but this still means 71% of all search visits had no keyword data.
What can we do?
This is a change that impacts all sites that use search data to try to understand their users' needs. At GDS we thought it would be helpful to alert content designers about this and to offer some tips about work arounds and other data sources.
Historical analytics data will still be available, so choose a time period earlier in 2013.
There will still be some keyword data from Bing and Yahoo! and other minor search engines. To get a view of this data on its own, within Google Analytics, go to the organic keywords report and select advanced filter. Choose Matching RegExp: Bing|Yahoo (the '|' is the pipe symbol). Then you should see the top search terms referring traffic from Bing and Yahoo!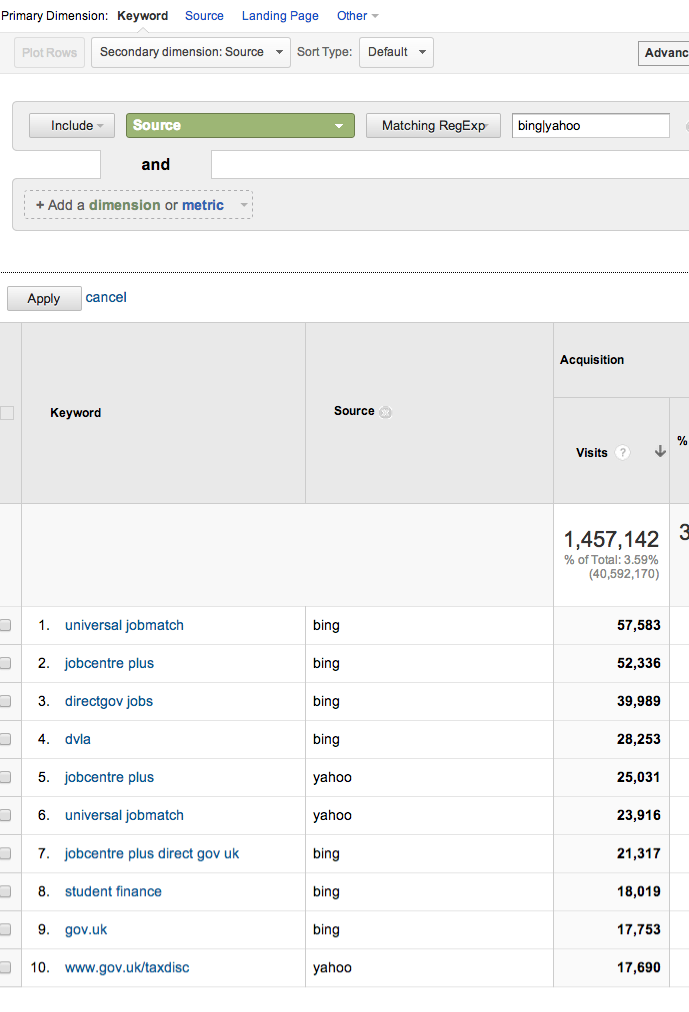 Look at the search terms people used in GOV.UK site search. To access site search data in Google Analytics, go to Content, then Site Search and select Search Terms to see  search queries for the whole profile. To see search queries made on a specific page, go to Content, then Site Search and select Pages and then the page you are interested in.
Use Google Trends to access valuable information about search term popularity and variations. See the search engine optimisation guidance in the GDS Content Principles.
Peter O'Neill advises: "Switch the focus from search term reports to landing page reports.  No, we don't know which search term people used to find these pages, but we can still tell if Google thinks this is good content – it will get traffic.  The biggest loss for analytics is on interpreting the quality of the page once people reach it.  Is a high bounce rate due to a bad page or visitors accessing it who you didn't design the page for?"
For specific projects, contact the GDS Product Analysts for further advice.