A few weeks ago, GOV.UK had more than 2 million visits in one day for the first time, on Monday 30 September. It wasn't long before we reached another milestone, with more than 10 million visits in one week from Monday 7 to Sunday 13 October – 10,098,352 visits, to be precise. The previous week had just fallen short, with 9,956,664 visits.
This growth in traffic felt timely as we approached GOV.UK's first birthday on 17 October. We've been looking back over the past year, and visits have doubled since those early weeks in October 2012.
As Peter Jordan wrote last week, we're now averaging more than 9 million visits and 6 million unique visitors a week – equivalent to twice the population of Wales.
In total over GOV.UK's first year, it's had 427 million visits (427,229,814) and 1.2 billion pageviews (1,210,084,972). That's more than a million visits and 3 million pageviews a day on average – though the website is busier during the week than at weekends.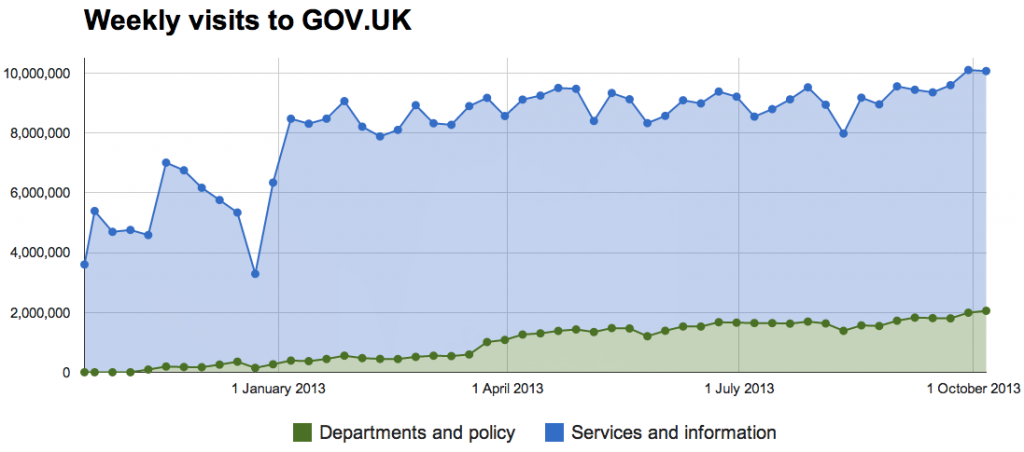 The departments and policy section (originally called Inside Government) has grown to around 2 million visits a week as more government organisations have moved to GOV.UK, making up a fifth of the total traffic. (The dip in August was when we lost some analytics data.)
Not surprisingly, Christmas week was the quietest time - but even on Christmas Day we still had 181,857 visits, with people looking for a job and renewing their car tax as usual, as well as people checking the bank holiday dates.
Over the whole year, the most popular pages were: