The current list of publication sub-types was based on the things that central government departments publish: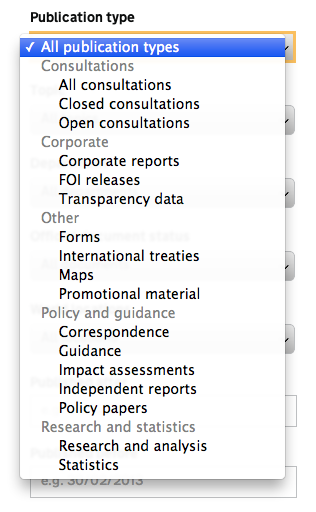 Now that hundreds of agencies and arm's length bodies are moving to GOV.UK, it's time to revisit this list, and make sure it reflects the diversity of what they all publish. It's also a chance to fix known problems with the existing types, eg the 'policy papers' type is too restrictive, and detailed guides don't appear under 'guidance' in the publications filter.
As part of this, we'll be adding some specialist document types, where there is a need for users to find a complete list of documents of the same type and be able to search it. An example might be Environment Agency permit notices or VAT notices. We'll be starting with a small list of these, but will add more where there is a need.
All publications and detailed guides will be labelled by type to reassure users they've found the right thing eg a VAT notice or white paper and inform them if it has a special status, eg national statistics. Where a document has been tagged as a specialist type, that's what we'll display - eg an Environment agency permit notice will be labelled as such, rather than as a notice.
On the publications filter page, users will select from the list of main document types, but specialist types will be returned in the filtered results when any relevant main document types are selected (eg VAT Notices will be listed if you choose either Guidance or Notices as the main type). This is because the specialist types are much narrower in scope and most of the filter options (organisation, policy, topic) won't be relevant.
We'll keep an eye on how this performs, but it's supported by the analytics we have on how people are using the publication filter at the moment: only a tiny percentage of users select anything more specific than guidance, statistics, forms or consultations.
Here's our first draft of the new types. We'd really like some feedback on it, please. If you're interested in tax, also take a look at a more detailed post about possible HMRC specialist document types.
Main document types

Specialist document types

Consultations

Case studies

Statistics

    National statistics

Guidance

    Statutory guidance

VAT notice

Forms

FOI and transparency

    Spending data

    Organisation chart

    FOI release

    Gifts, hospitality,

    travel and meetings

Notices and decisions

    Notice

    Decision

Environment agency permit notice

OSA decisions

NCTL decisions

Reports

    Research

    Annual reports

    Business plans

Policy and bills

     White paper

     Strategy

     Implementation plan

     Draft bill

     Draft statutory instrument

     Impact assessment

Correspondence

Promotional material

Map