The information in this blogpost may now be out of date. See the current GOV.UK content and publishing guidance.
Removing unnecessary departmental and policy content improves the user experience of GOV.UK. Clearing up unloved legacy content is always a good idea. This post is intended to help departmental managing editors know how and when to retire content.
Provide a URL to redirect users to if it's available to avoid sending people to a dead end. Removing content can cause problems for users who've bookmarked it or shared it on social media.
There are 2 options: unpublishing and archiving.
Unpublishing
'Unpublishing' removes a piece of content from the site. You may want to do this because something has been:
consolidated into another GOV.UK page
published in error (eg duplicate documents or something published without clearance)
An unpublished page.
Leave a reason in the 'public explanation' field wherever possible, and add a redirect to provide a smoother user experience and avoid 404 error messages.
You can only redirect to URLs on GOV.UK.
Don't unpublish a document because it's out of date or no longer current (use archiving for this).
Archiving
Archive content if it was once the primary and accurate source of information about government activity but is now obsolete, for example a policy which is no longer relevant. Send users to its replacement if there is one.
If an organisation closes, only archive material that's no longer relevant. Examples of items that shouldn't be archived are:
guidance that's still useful about things people can still do (consider reassigning this to the new organisation if there is one)
transparency data
freedom of information responses
The content will still be live in its original context, letting users explore within the architecture of the GOV.UK navigation. Archiving content within GOV.UK keeps it on the live site for posterity.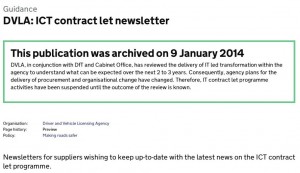 Always leave a reason in the 'public explanation' field why you're archiving the document. This will appear on GOV.UK so don't include any internal information eg names as they can't be changed later.
It's not possible to un-archive something so only do this if you're sure it's no longer current.
When not to remove content
Don't unpublish content just because:
it's a news story about an upcoming event that's now passed
there's been a change of administration or role
it's out of date or no longer current (use archiving for this)
GOV.UK is a historical reference for citizens. Users must be able to look back and see what government did, as well as what it's doing now.
Who can remove content
Managing editors in departments and agencies can now remove content from GOV.UK within Publisher. If the managing editor is unavailable, contact us.
There's technical guidance on how to unpublish in the Publisher instructions. GDS will carry out spot checks on the use of unpublishing and archiving.
Stay in touch. Sign up now for email updates from this blog.
Other GDS blogposts we think you might find interesting
Style guide alpha
Removing format names
Topic analysis and top tasks