We've recently simplified the way we link to local services like Report a litter problem, Find out your rubbish collection day and many more.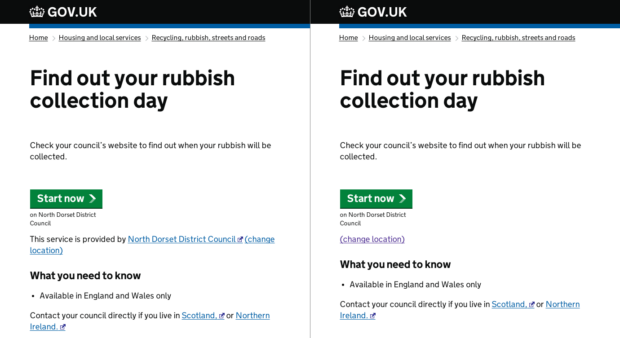 Our colleagues in DCLG got in touch to let us know that when users follow links from GOV.UK to local services, they're often frustrated to find themselves at the generic 'contact us' page for that authority. We'd also seen some feedback from users that suggested people were sometimes missing the big green 'Start now' button and hitting the name of council instead. The 'This service is provided by:..." link did seem to be the most clickable thing on the page for some users and wasn't adding anything useful.
We've simplified things to remove that link, and we'll be keeping an eye on feedback to see if this change helps people get to what they're looking for.