Last month we wrote about our work to rebuild Specialist Publisher, the app used for creating manuals and finders on GOV.UK.
This post provides an update on progress, and tells you about some changes we're making to split it into 2 separate apps for finders and manuals as part of moving to a simpler architecture.
Progress update
We've now successfully migrated all of the existing 'finders' on GOV.UK onto the new Specialist Publisher.
It was a like-for-like migration, so our intention was to not change any functionality. However, we did make some minor improvements to the attachments functionality so that users can change the name of an attachment without the need to re-upload a file.
We're also documenting what we've learnt from migrating the finder formats to use the new Publishing Platform. We want to use these lessons to help improve the efficiency of the next app we migrate over.
In our last blog post about Specialist Publisher we also touched on how the Department for International Development (DFID) appointed external suppliers, dxw, to create a 'finder' that can replace their 'Research for Development' website. This work has been completed and we've successfully imported about 30,000 research pages onto it.
Splitting finders and manuals
When the 'manuals' and finders formats were first built, they were both part of Specialist Publisher although they are actually 2 completely different content formats with different user needs.
Now that we've completed migration of all the finders, we've made the decision to separate finders and manuals.
This follows our architectural principle to keep applications using the Publishing Platform as simple as possible, so they are more flexible and easier to maintain. Making changes specific either to finders or manuals will be easier if they are independent of each other.
What this means for publishers
When we've completed the change, there will be 2 different apps for users to choose from: Specialist Publisher will now just be for finders, and there will be a new one for manuals, called 'Manuals Publisher'.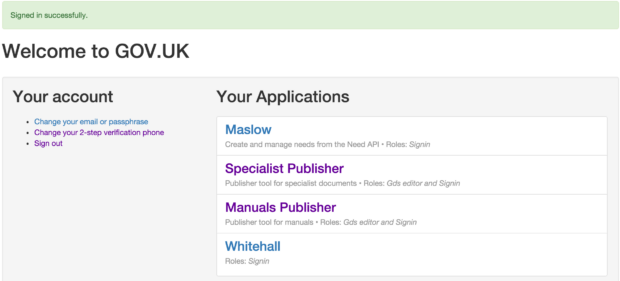 Initially, the functionality of both these new publishers will be exactly as it was when they were combined. You will be able to create and manage content as you do now.
What next for manuals
We're doing a discovery on the user needs for manuals in the coming months, but for now the functionality will stay the same. The only difference will be that a publisher will have to go to the Manuals Publisher instead of Specialist Publisher on the Signon page.
The rewrite and migration to the Publishing Platform will come later, and we'll let you know the results of the discovery.
What's next
We expect to get this done within the next month. We'll keep everyone aware of the change once it is implemented over Basecamp and this blog.
Shilpa is a Senior Product Manager at GOV.UK. Follow her on Twitter.