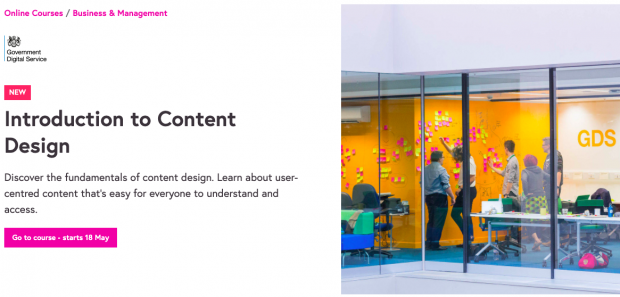 The Content Community team at the Government Digital Service (GDS) is launching an 'Introduction to Content Design' course on the social learning platform FutureLearn. The 4-week course starts on 18 May and you can sign up now.
Find out more about who the course is for and what it covers.
Six lessons from 'Introduction to Content Design'
Dawn Kofie, a content designer working for Scottish Government, attended the course pilot, which we ran last year with a group of 100 learners from across government and the public sector.
Here's a breakdown of the things Dawn took away from the course, in her own words:
There are a few boxes a training course has to tick before I consider attending it:
Is it going to be worth the time out of the office?
Is it going to tell me what I need to know - methods I can use or concrete actions I can take that will help me do my job better?
Have I heard of the trainers, and do they sound like they know what they're talking about?
GDS's online 'Introduction to Content Design' course ticked all of them.
The course covers the basics (including user needs, content testing and what makes effective content) in an engaging, informative and easily digestible way.
I've been lucky enough to work with - and learn from - a selection of talented content designers, attend well-delivered training courses and go to some great conferences (including ConCon). So a lot of what's on the course wasn't new to me -  it was more of a welcome refresher.
But I wanted to do it because:
I figured that having content design principles and practice presented in a fresh way would enhance my knowledge and understanding of the discipline
it was a chance to find out about the aspects of content design that aren't part of my current role
I'm nosey
Here are the main things l took from the course.
Online learning isn't the poor cousin of classroom-based courses
In the past, I've felt like training isn't 'real' training unless you're sitting in a room with a bunch of peers, a PowerPoint presentation and a trainer.
But my experience showed me that online training can be every bit as effective as a face-to-face course.
The 'Introduction to Content Design' course's mixture of tasks, quizzes, videos and questions to prompt discussion meant that working through the activities didn't feel like a drag.
The course is convenient because it's:
self-paced
online, so there's no travelling involved
something you can do in your own time
This means you can fit it into the nooks and crannies of your working day.
Another thing I really liked was interacting with other people. Participants were able to add discussion points and respond to comments throughout the course.
Hearing others' perspectives and ideas as you're working through the course means you're not locked in your own learning bubble. That makes for a much more interesting and fulfilling learning experience.
Accessibility is more than just clear language and screen readers
The part of the course that focused on accessibility reminded me that ageing and infirmity are not things that happen to other people. As 'glass half empty' as it sounds, we're all temporarily abled.
This part of the course also highlighted that not all impairments are permanent - they can also be temporary (for example, a broken arm) or the result of being in a particular situation (such as background noise making it difficult to hear).
'Perceivable, operable, understandable and robust' are the high-level principles that describe accessibility. But they are not all terms that we'd use in conversations outside of work. The course made them more memorable and relatable through examples that put them into everyday context.
I want to know more about designing for non-digital users
How many non-digital users do you think there are in the UK?
According to the Office for National Statistics, in 2019 there were just under 5 million adults in the UK (7.5% of the adult population) who had never used the internet, or hadn't used it in the past 3 months.
But there are still online products and services that ignore the needs of users who have:
less or no access to digital tools
lower digital skills
a lack of confidence around the internet
a lack of language or literacy skills
mental health problems or learning difficulties that mean they can't use a digital service
It was good to get the chance to learn more about digital inclusion, increase my awareness of non-digital users' needs, and find out how other organisations are making sure that they're meeting these needs. And it was something I read up on after the course finished.
Browser prototyping is an option
I'd never heard of browser prototyping (a quick way to tweak an existing website or prototype) until I did the course.
The short, easy-to-follow overview it provided is definitely something I'll be referring to in the future.
Development isn't just about your skills and knowledge
It goes without saying that the skills, knowledge and experience that you need to do content design are important.
But it's also useful to develop connections, exchange ideas, and learn how other content designers work, what their priorities are and how their organisations and teams are structured. The course's discussion points were perfect for this.
It was also reassuring to hear that, regardless of where you work, a lot of the challenges content designers are dealing with are the same.
You should make time to plan for learning and development
It's easy for training to slide down to the bottom of your to-do list.
So it was good to have to reflect on what else it'd be useful to learn. For me, it was interaction design, digital inclusion and how to design effective forms.
Sharing ideas about the different ways and places there are to gain that knowledge - online and offline - was also helpful.
Do it!
If you're new (or new-ish) to content design, this course will give you a solid grounding. I'd definitely recommend it.