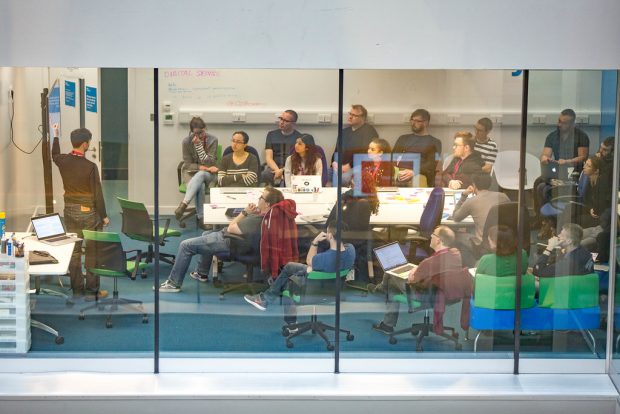 An exciting future and an admission
I will start with an admission: GOV.UK has not published a roadmap since 2017. This has not been deliberate and has been largely due to our focus on urgent work (Brexit and more recently coronavirus work) which was, by its nature, reactive to critical changes in circumstances. 
We have been agile, starting and pausing work to make sure that we're delivering the most value to users and government. The current work has, as a consequence, been focussed on rapid delivery.
While this work continues at pace, so does our commitment to delivering the transformation required to meet our users' expectations, and doing this in the way that GOV.UK always has: transparently and with users at the heart. 
Jen Allum, Head of GOV.UK, wrote recently about shifting GOV.UK to an offering that is proactive, low-friction and channel-agnostic. 
In practice, this means that in the coming year we will: 
continue to respond to critical user needs and government priorities

advance our personalisation strategy

develop our data insight work

develop and build the resilience and capabilities of the GOV.UK platform
Below I expand on what this work looks like in practice.
The challenge: critical work and a blueprint for the future
Our recent circumstances have been a huge catalyst for change. Consequently, we have needed to accelerate key parts of our future strategy, which I will outline here. Making this future strategy a reality forms the core of the roadmap for 2020 to 2021.
Our approach to building the content and services to help users navigate Brexit and coronavirus are examples of how GOV.UK is able to solve whole problems. 
Supporting these critical programmes of work continues to be a priority. Delivering these requires a new roadmap for GOV.UK that is broader in scope, with all digital services based around the holistic needs of people and businesses. They should be built around life events - like buying a first home, starting a business, or caring for a new-born child. 
We can tackle complex, cross-cutting problems that impact specific user groups and provide solutions by:
taking advantage of our central, overarching position at the heart of government's digital transformation

utilising our arsenal of skills, products and research

establishing the pattern: through data, research, engagement, prototyping and success measures to enable us to consider tackling more problems at pace

working collaboratively with multiple government departments and policy teams
Transition period
Helping users and businesses prepare for the transition period and beyond continues to be a priority, and the full roadmap for 2020 to 2021 helps provide the framework for our future partnership and interaction with the European Union. Users will need to engage with a lot of newly created and updated information and services. 
To support this we will continue to:
improve policy guidance

take a mobile-first approach

consider models for structuring content to enable updating at scale, optimised search results, and integration with voice assistants (like Siri and Alexa) as well as search engines through structured data markup
Supporting everyone through coronavirus
Supporting everyone through the national emergency of coronavirus (COVID-19) is a critical priority for government. At the Government Digital Service we are making sure that:
the most up-to-date information and guidance is published and easily accessible

we have built tools and services that enable the most vulnerable among us to access help and support, and enable people to volunteer services and products to support the national effort
The GOV.UK coronavirus page - designed, built, and shipped in under 5 days - has become the definitive source of government guidance and support related to COVID-19. The page has received tens of millions of views and helped people find the answers to important questions, like how to protect extremely vulnerable people, or how to get tested. You can read more about how it was built or listen to a podcast on GOV.UK's response to the crisis. 
This work continues as we adapt to the changing dynamics of dealing with the pandemic and GOV.UK will continue to be a critical hub for guidance and access to services.
GOV.UK as the single domain for government
Another fundamental shift for GOV.UK was hosting the Get Ready for Brexit campaign directly on the central GOV.UK platform. Traditionally there has been a split between government communications campaigns and the content which sits on GOV.UK, with the former being hosted on a separate platform. We knew that the complexity and reach of Brexit meant that we needed to take advantage of our digital experience, methods, products and services - which meant building directly onto GOV.UK.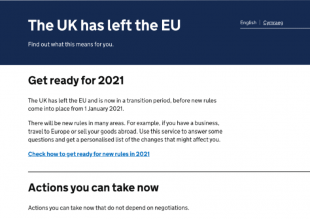 We repeated this for COVID-19 for the same reasons, and designed and built out the coronavirus landing page with a mobile-first mindset, as we knew that not only are mobiles becoming the primary device for access, but that this might increase still further given that access to desktop computers could decrease as a result of the pandemic.
Our focus in 2020 to 2021 then is building on all of this work, and considering what needs to be done to make GOV.UK work even harder for users. This includes archiving non-current content and reviewing the types of content available on GOV.UK platforms.
Archiving content
Archiving will enable us to really focus on current content, the smaller data set making it easier for users to find content across the platform. We will be working with the National Archives on a plan for them to hold all non-current content, with an elegant hand-off and easy access for users to both new content and sign-posting to older content. Keen readers may remember that this has been in our plans for a while, so we now want to get on and do it.
Content types
In considering the types of content that are available on GOV.UK, we need to consider what users need and expect, and how we can best deliver that. Examples here could include more video content, more images, or graphs. We will work closely with teams across government and rely, as always, on user research and data to support our plans.
Meeting users where they are
Making sure that GOV.UK services and content are current, channel-agnostic, comprehensive and consistent, so that we meet users where they are, with the right information and services, is crucial. An example of this is our work on the 'Register to vote' service where GOV.UK answers to key questions appeared directly in Google search results. 
We'll be expanding our work in this area by:
structuring data and content at scale, to open standards

working with 3rd parties on implementing a channel agnostic approach

making better use of voice recognition software and utilising machine learning 
Below is an example of our work on the 'Register to vote' service, using Google's OneBox feature. 

Personalisation, via a consent-based model
We started to explore what a more personalised experience of GOV.UK could be in 2019. This was driven by our understanding of both wider user expectation, and some of the problems faced by our users in navigating government. 
Brexit provided us with some insight into the potential to drive service improvement through greater personalisation. Our Brexit checker (now the transition checker) demonstrated the benefits of proactive services, tailored to the specific needs and circumstances of users, that reduce the complexity of interacting with government. 
We want to continue delivering on our ambition to provide more relevant and personalised experiences, but it is essential that everything we do is based on consent and the highest privacy standards. While some users will want to share as little information as possible, some will want - and expect - government to use data effectively to provide a better service. We want to cater for the full spectrum of user needs and preferences. 
People's interactions with government shouldn't be determined by the underlying structures of government or the departments responsible. To most people GOV.UK is one government website and they should only need to tell government once.
Exploring our approach
We have now started work on exploring our approach to personalisation with a discovery into what this means on GOV.UK for users. We are considering the user journeys around starting and running a business as the initial lens here - this is a priority area for users and government and we know that the user journey can be improved. 
To do this, we're talking to small and large businesses, getting advice from other government departments and wider organisations that have built systems before, alongside thinking hard about the data, technical, architectural, ethics, privacy and user needs that critically inform this delivery.
Data labs, insight and analytics
We need to join up performance analytics so that we can analyse data on site usage across the GOV.UK estate. This will provide an end-to-end, anonymised view of how people interact with government online, and ultimately help improve the quality of online public services. 
We'll do this through:
better use of data and applying it to product and policy development

working holistically with GOV.UK data scientists, performance analysts and user researchers, using qualitative and quantitative data at scale, to provide better reporting and insight

using our data lab to build products that allow our colleagues to gain further insight into our users' needs and our content
We have reached a milestone recently with the work of our Data Labs team who have developed an incredibly accurate model for adding metadata to content, paving the way for our work across structured content, personalisation and widely improving our capability to meet the needs of our users wherever they are. Working to make content easier to find or suggest is something all good websites have in common. There is more information on these developments in this blogpost from the Data Labs team. 
GOV.UK platforms and navigation
We provide the capability for government to publish policy and guidance online, and we maintain the GOV.UK platform.
We also provide the ability to generate bespoke notifications for users across key content of interest, which is particularly important for Brexit and COVID-19. 
However, as the owner of the central GOV.UK platform, we will need to continue to respond to regular requests for new tools and features matched to users' needs, investigating and building solutions where appropriate. We will also be responding to user needs and feedback and ensuring that we are meeting users' expectations.
We need to remain flexible when faced with future requests while maintaining the pace of delivery of the GOV.UK roadmap.
We'll continue to support and strengthen our core platform, so that we can deliver our vision of:
a resilient, secure and flexible GOV.UK platform

developing the next publishing platform for GOV.UK

developing a single, consistent, user-facing topic structure for GOV.UK 

building a simple top level navigation

for GOV.UK
So, now what?
I've been at GOV.UK for around 18 months - in that time there has been significant change, some of which I have outlined above, and we are planning on more. These changes will be developed and implemented to constantly improve GOV.UK, however you access it, with a combination of:
a dedicated and talented bunch of people

a trusted brand that we treasure

industry-leading design patterns

asking gnarly questions and tackling difficult problems
We hope that the work we do across GOV.UK and beyond makes interacting with government easier, and leads to a GOV.UK that's proactive, low-friction and channel-agnostic. I'd welcome any thoughts, feedback and questions via the comments below.