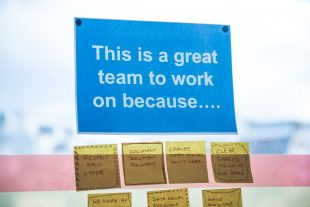 It's a busy and exciting time to be working on the GOV.UK programme.
I recently joined GOV.UK from another programme in the Government Digital Service (GDS) and I'm impressed every day by the work teams are doing, their diligence and their support for each other.
As Head of Delivery, my role is to enable teams to deliver our roadmap. This means that I work closely with the teams to understand their needs and blockers and to ensure these are managed and resolved in a timely manner. I also work closely with the delivery managers in each team, supporting them to develop good team health and happiness.
An ambitious vision for the future of GOV.UK
Jen Allum, Head of GOV.UK, explained in a recent blog post about the future of GOV.UK that, as busy as we are with the unprecedented challenges of 2020, we still need to build for the future.
Our new roadmap for 2020 to 2021 explains how we are organising ourselves and prioritising our work in order to deliver on our vision for the future and our goals for this year.
So this is a very exciting time for us in GOV.UK. There is lots to do and we need to build more high performing teams if we are to achieve the things that we have set out to achieve for our users and for the government.
And we need to recruit more talented people to help us.
New job opportunities on GOV.UK
We're looking for skilled leaders and practitioners who enjoy solving complex problems, taking a user-centred approach, and working with multi-disciplinary teams. We're currently recruiting for nearly all digital disciplines and at all levels of experience.
For example, we're recruiting a Head of Data and User Insights to work with colleagues across government to improve our collective understanding of users, and to explore how we could apply data and insights to provide a more personalised experience to users. They will lead the 3 disciplines of user research, performance analysis and data science, which we're also recruiting for.
We also need more user-centred design practitioners to provide comprehensive, consistent, channel-agnostic experiences that meet users where they are. To structure our content we'll be adding some new content roles to the programme, including a lead content designer, a content architect and more technical writers. Plus we're recruiting more of the design roles already on the programme as well, such as service designers, content designers and interaction designers.
We're recruiting a new Head of Technology to lead the transformation of our publishing architecture, while navigating challenges of scale, resilience and interoperability. They will lead the technology function of the programme, which includes technical architects and developers - roles that are also in our recruitment drive.
We'll need more product managers and delivery managers to help us plan and deliver the ongoing development of GOV.UK.
And to ensure that everyone on the programme has leadership and support, we're recruiting 2 deputy directors. They will support the Head of GOV.UK at the senior civil servant (SCS) level, ensuring that we stay connected with colleagues across government on this journey.
Our plan is to manage our recruitment campaign in a way that allows us to bring in the right people at the right time. We're doing our best to align our recruitment needs with our roadmap - this means that our recruitment campaign will remain active up to the end of 2020.
What it's like to work on GOV.UK
I've worked at GDS for just under a year and for 3 months on GOV.UK. I've found it to be fast paced, energetic and rewarding.
But that's just me. Many other colleagues have shared their experience of working here, such as Helen Nickols' post about her experience of flexible working and Chris Ashton's post about being a developer. You can also get a good sense of us from our 'it's ok to...' poster, which has been a useful reference for over 4 years.
We work in a fast paced, agile environment. Agile approaches suit digital delivery and we use methodologies that support the work, such as scrum and kanban. The way GOV.UK teams have successfully adapted to working from home during COVID 19 is in part testament to our agile working culture.
And working together from different locations will continue with GDS adding 2 new offices in Bristol and Manchester, in addition to our London office. This is part of the government's commitment to create jobs and growth nationally, and improves our ability to recruit talented digital professionals from across the UK.
Diversity and inclusion are essential to successful delivery. People need to feel welcome and trusted to do their work. We encourage people to share their ideas, in the different ways they feel comfortable expressing them. And we understand some people have had more opportunities in their lives to express themselves than others.
GDS provides training, mentoring and support networks to improve how we listen to each other, so people can have the confidence that they will be heard. We're working to improve diversity and inclusion in recruitment, learning and development, to ensure everyone can progress based on their skills and experience.
We work for the whole population. The Civil Service is committed to reflecting the society we serve and aims to be the UK's most inclusive employer. Our Workforce Insights and Analytics team are using data to make Digital, Data and Technology (DDaT) profession more diverse across government.
GDS recognises that it takes continuous effort to be inclusive and diverse. You can help us by sharing these job opportunities and encouraging others to consider a digital career in GOV.UK.
Next steps
All our jobs are advertised on Civil Service Jobs and many of the roles mentioned above will be part of a recruitment campaign going live in July and August. We will also share vacancies on the GDS LinkedIn. Keep an eye out for these over the next month.
If you're interested in finding out more about GOV.UK's work, subscribe to updates from this blog.
And if you have questions about current or future roles, you can leave a comment on this post or email the GDS Recruitment team.