We've just launched 37 new content analytics dashboards onto the Performance Platform. We hope they will help people in government departments and agencies see at a glance how their content is performing. This blogpost tells you why we've built them, and our plans for the future.
What the dashboards show you
There is a dashboard for each of the  24 ministerial departments, the Prime Minister and Deputy Prime Minister's Offices and some agencies. For each organisation, the dashboard shows data from Google Analytics on its 'Departments and policies' content:
visitors and pageviews
most popular pages
devices used to access the content
new and returning visitors
sources of visitors
In addition an engagement module shows a count of feedback received to an organisation's pages and the most commented pages.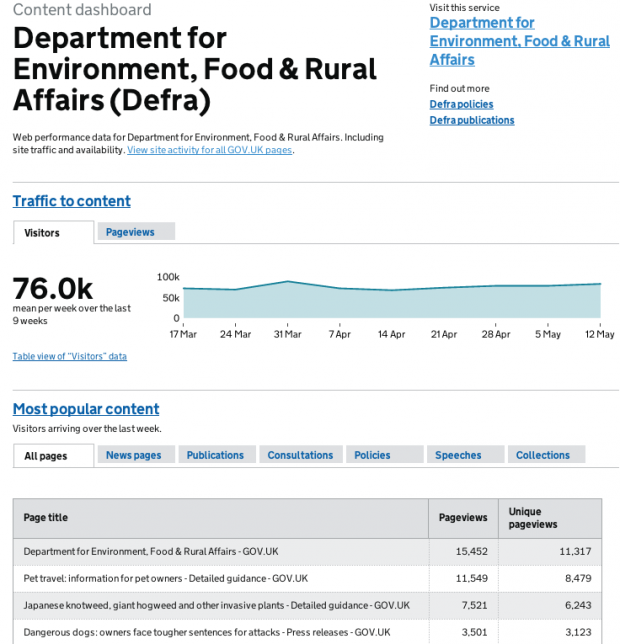 Why we built the dashboards
There is a wide community of people interested in the performance of 'their' content on GOV.UK. Many departments have someone whose role involves digital analytics and the GDS performance analysts have worked with them to provide an organisational view.
However, in 2014 we realised we needed a step change in how we got performance information about GOV.UK content to the people that need it. Firstly, the transition of GOV.UK means that many more organisations need access to data. Secondly, within each organisation there is a range of people who need an overview of how 'their' organisation is doing.
The first group of people who articulated a need were the Evaluation Champions - a group of communicators tasked with creating performance hubs for departmental communications activity. Earlier in the year we held a workshop with the Champions to establish their user needs for data about GOV.UK. As a quick win, we made dashboards within Google Analytics and emailed the Champions a monthly snapshot.
We wanted to improve on this and were lucky to be able to work with our Performance Platform colleagues and an external data science company, ScraperWiki, to build dashboards that are more interactive and published to the web, so that everyone can access them.
Next steps
At the moment, what's live is a minimum viable product. It was informed and constrained by:
The user needs collated by the Evaluation Champions and the subsequent workshop
Our learning in developing the dashboard that some metrics were more meaningful in terms of what data is collectable when filtering to a department view
What was achievable within available resources. For example, we were unable to commission any new display modules so some modules display a rolling 9-week period.
Only Department and policy content is currently tagged by organisation; so no services and information content is shown
We plan to iterate the dashboards to make them as useful and actionable as possible and to reflect the GOV.UK KPIs that are currently under development. For example:
We know that content designers would like additional data about trends and engagement
We want to normalise the feedback data

 so they show, for example,  comments per 1,000 pageviews. Currently the modules cannot combine data from two sources, in this case ZenDesk and Google Analytics.

There may be opportunities to bring in other non-digital datasets; such as call centre information.
We'll also extend the coverage of dashboards to additional organisations.
The links to each dashboard are towards the foot of the https://www.gov.uk/performance page.