We've already written a post about the new organisation template and our reasons for creating it. This is an update about the impact of using the new layout for DVLA.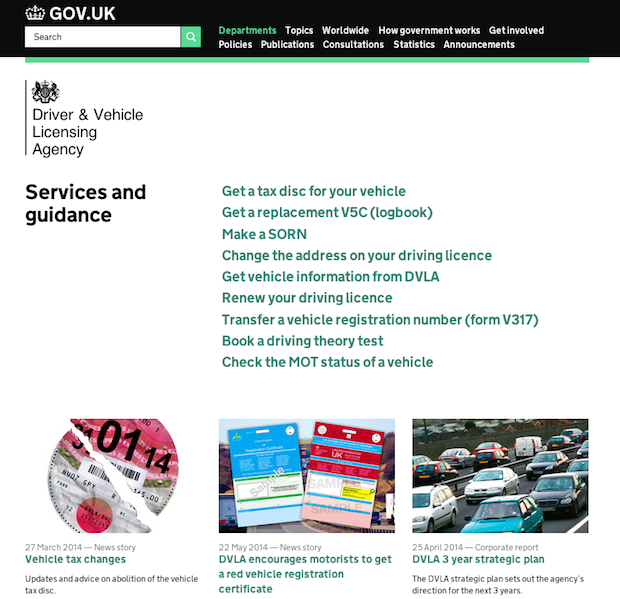 After the search page and the home page, DVLA's organisation page is the most searched on page of GOV.UK. This shows that many users can't find what they're looking for straight away. The searches made from the page are almost all for services, forms and guidance.
This confirms that users visiting DVLA's organisation page often use it as a starting point to access services provided by DVLA, like getting a tax disc, rather than to find news and policy information. Users have an established relationship with DVLA and closely associate it with the services it delivers, so it's a good fit for the new organisation page which puts the focus on services and guidance.
We worked with DVLA to decide which services and guidance to feature on the new organisation page. We looked at the most popular 'top task' links from the previous organisation page, and then analysed the search terms to see what was missing, and added these in. We ended up with a list of 9 links. Interestingly, two of these services are delivered by DVSA, not DVLA, but thousands of users a week try to find them from DVLA's organisation page so it made sense to include them.
Two weeks after DVLA adopted the new organisation page, searches have gone down on the page by 40%. That represents 1100 people per day on average who arrive on this page and don't need to search within GOV.UK to find the information they're looking for.

We're pleased with the success of the new layout for DVLA and look forward to seeing it used by more service-oriented organisations on GOV.UK.