The information in this blogpost may now be out of date. See the current GOV.UK content and publishing guidance.
We recently blogged about the alternative organisation page which displays a list of up to 10 curated top tasks in the top centre of the page, labelled 'Services and guidance'. This blog post explains how to request the new page layout on your organisation page.
Requesting the featured services and guidance links
The alternative organisation page layout is intended for organisations that have very little (if any) news, publishing or policy activity, but a high volume of users with very specific, service-oriented needs. It's had a successful impact on Driver and Vehicle Licensing Agency's (DVLA) organisation page. UK Visas and Immigration, Maritime and Coastguard Agency and Insolvency Service have recently started using it too.
To request this type of organisation page, please propose the text and URLs for up to 10 links via Zendesk as follows:
Choosing the links
When choosing links, you should consider:
what users are searching for from your organisation page
routing users to specialist browse pages (if you have them)
the top tasks from your existing organisation page
most popular content based on page views
Feedex comments
frequent contact centre queries
balancing mainstream and specialist user needs
seasonal trends (for example, applications for study visas or fishing rod licences)
GDS content designers can help you with choosing the links and the wording based on user's needs.
Creating the links
When you've worked out which services and guidance users will benefit from, raise a Zendesk ticket (in the 'General' section) with the title 'Alternative org page layout' . We need to know the order in which you'd like the links to appear, as illustrated in the DVLA example: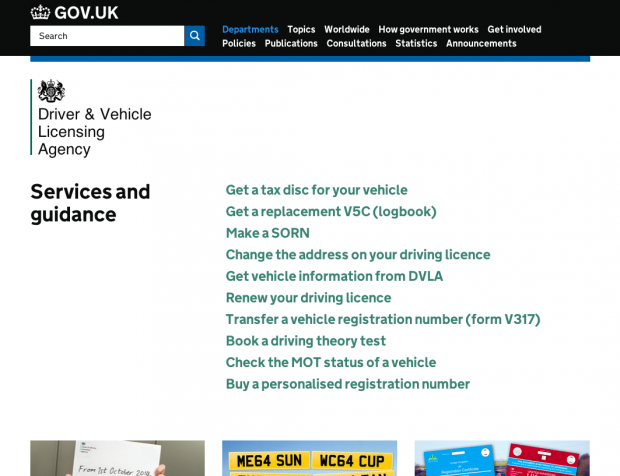 GDS will confirm receipt of the request and chosen links, and then apply the new layout to your organisation page.
Managing your links
The links shouldn't be a static list. You should iterate them regularly by checking analytics and feedback, and keeping up with seasonal trends.
We'd suggest looking at performance every fortnight, and then iterate.