We've previously blogged about how we've been using Tableau to see how users look at departments and policy content on GOV.UK. We mentioned we wanted to make data more available to digital publishing teams, so we're really excited to share this interactive chart which shows pageviews for different types of content. This time we looked just at the 'publications' format and asked 3 main questions:
how often are departments/organisations publishing?
what publications sub-types are they publishing?
how is their content being viewed?
Click on the image below to take you to the chart on Tableau Public. There's more explanation of the data and some of the insights it gives below.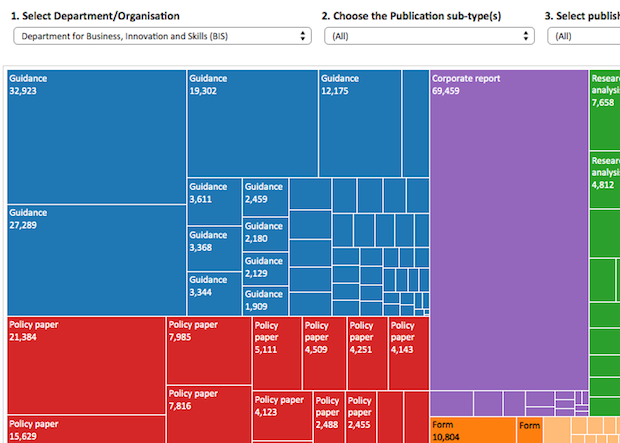 Publications pages on GOV.UK
By 'publications' we mean everything that lives in /government/publications – including guidance, policy papers, FOI releases etc.  The data only relates to the 'splash pages' as we're currently not able to measure downloads of documents. There have been more than 70 million visits to publications pages since GOV.UK launched. Currently, around 44% of visits to the departments and policy section involve viewing at least one publications page.
How to view the chart
The data shows all publications pages published by the top 20 visited departments/organisations between January and July 2014. The number of pageviews is to the end of August 2014, meaning each piece of content had been published for at least one month. Publications pages have been broken down by sub-types. Each 'tile' in the treemap below represents a single page, and the size indicates the number of times it was viewed. Select the options you want to see from the drop-down menus - hovering over a tile will show the page name and the number of pageviews it received.
Insights
By selecting various departments/organisations the differences become clear, reflecting the individual business nature of each. For example, the Department for Environment, Food & Rural Affairs (Defra) publishes a large number of FOI releases…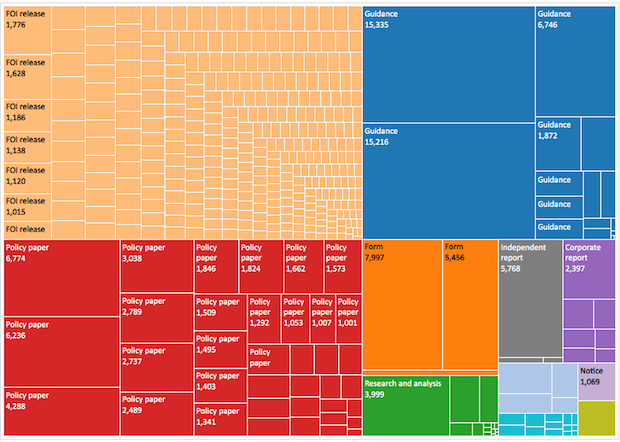 …contrasting with UK Visas and Immigration (UKVI), where the main focus is guidance.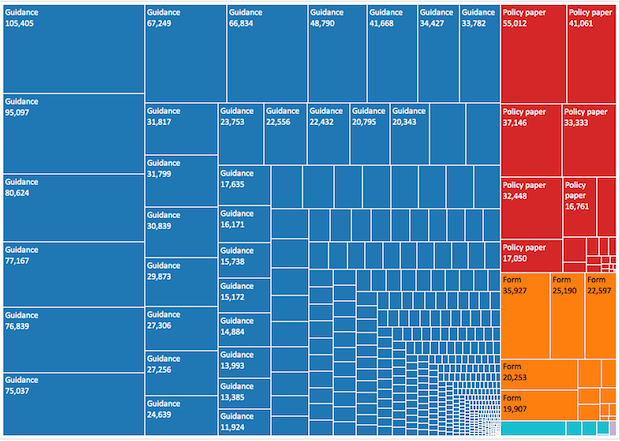 Looking at data in this way also shows us the pages which are relatively popular (and less so....).  For example, selecting 'transparency data' published by the Cabinet Office (CO) shows that more than 90% of total pageviews were for the Birthdays honours list 2014.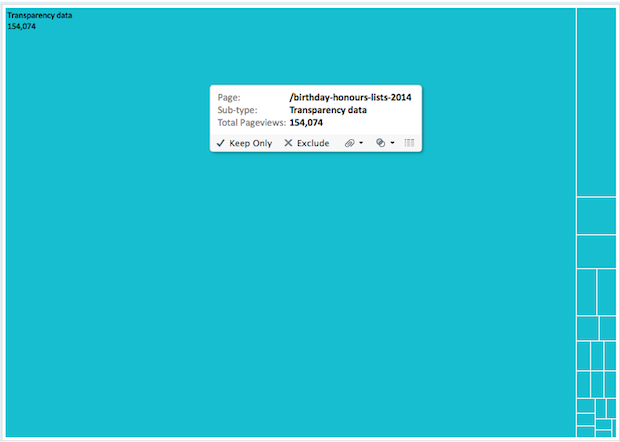 Tell us what you think
We'd love to hear your thoughts on the visualisation and how we could make it more useful to you for developing your content strategy. We'll continue to explore data using Tableau, so if you have any suggestions about data you'd like to see please get in touch.
Ashraf Chohan is a Product Analyst. Lynne Roberts is a Content Designer in the departments and policy content team.