We know through user research that people with specialist user needs want to see everything about their specialisms. They want to know when content has changed and quickly understand what has changed. So we've made a couple of improvements to sub-topic pages to meet this user need.
Email alerts
It's now possible to sign up to get email alerts for any GOV.UK sub topic.
As we've mentioned before, sub-topics are gradually becoming the main GOV.UK subject-based taxonomy. It made sense to add email alerts to sub-topics so users who need to stay on top of changes can easily do so. For a while now it has been possible to tag all 'editionable' content to a sub-topic so this now means most content on GOV.UK is alertable. Our system allows users to select immediate updates, or digests every day or week.
Alerts are generated when either a:
new piece of sub-topic tagged content is published for the first time
change is made to tagged content and it's marked as a 'major change' by the publisher. This email alert will include the change note copy.
Want a new sub-topic?
If you don't have a sub-topic and there is a user need for one, please get in touch and we'll work with you to create it.
Latest documents
We will also be adding a latest documents page to show what content has been tagged to a sub-topic, and how that content has changed over time.
The latest documents page lists content items in reverse chronological order (most recently updated content at the top) and shows the content title and a public change note. The page is generated automatically so no additional work is required by publishers.
Take a look at the latest documents page for the VAT sub-topic for an example.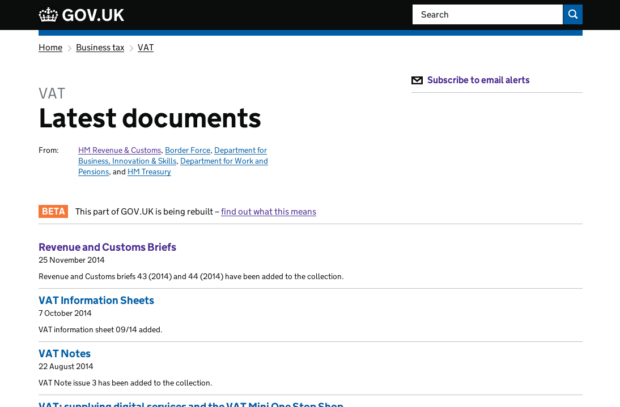 When we release the sub-topic latest documents page we'll start excluding 'news type items' from the sub-topic page itself, only showing them on the latest documents page. The intention here is to help keep sub-topic pages an acceptable length and stay tightly focused to guidance material, whilst still giving access to news that is related to a sub-topic.
A full list of excluded formats is in the guidance document.
This is the first iteration of the latest documents page. We'll be monitoring usage to ensure user needs are being met and iterate accordingly. If you have any feedback about the page, or about the email alerts, please let us know.