During the recent GOV.UK firebreak, we made some improvements to info pages. These are the 'shadow' pages that exist for almost every page on GOV.UK. They show user needs for that page and metrics about how well the page meets those needs.
Info pages for the multi-part guides
The 650 multi-part guides account for more than 20% of unique pageviews on GOV.UK. By adding info pages, there's now a lot more data available on these pages. You can now see the number of pageviews, searches and problem reports aggregated across all pages in a guide. For example, we now know that the Housing Benefit guide averages 2 problem reports a week across all its pages.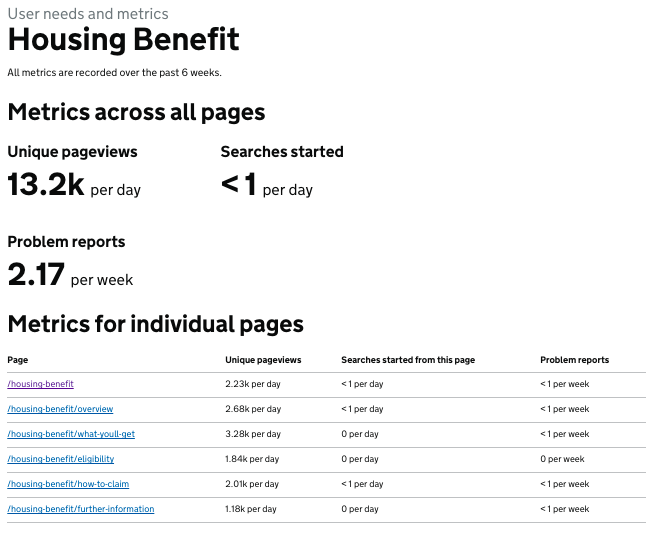 Fixed metrics for smart answers
There are around 40 smart answers on GOV.UK, and previously we only showed problem reports for the first page. Now we look at all the problem reports across all steps. So we now know that the page to check if you need a UK visa averages 75 problem reports a week.
Putting metrics in context
The metrics for the PIP checker smart answer showed 240 problem reports in six weeks. But we don't know if that's high or low, given that the page had 100,000 pageviews? We started comparing these numbers across the whole of GOV.UK, to add 'very high' or 'high' flags where needed. This will make it easier to spot pages that need work.
Identifying the most problematic content
Now that we know what pages users complain about, we should be able to come up with lists of the pages with the most problems. Interestingly, we found some smart answers, like UK visa and PIP checker answers, do have a high numbers of problem reports. We're now looking into why that is, and how we can fix it.
We didn't finish the last 2 things during firebreak, but we think they are important. So we're planning on finishing them in the next few sprints. We're also using these metrics as part of our internal performance reporting. Watch this space for news.
We'll post soon on the GDS data blog about how we're identifying problematic content.