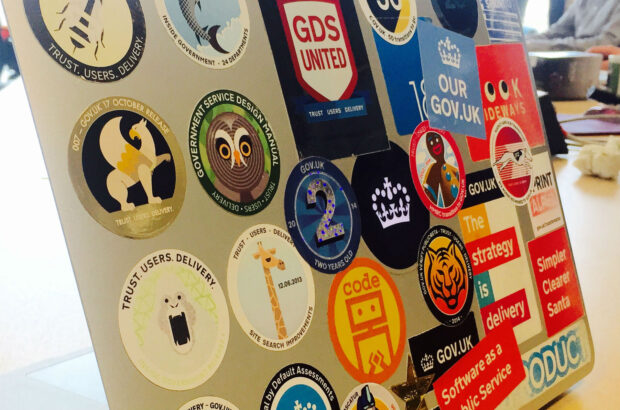 This post is part of a series. See the introduction here: New normal, new teams, new goals.
We've defined a new set of high-level goals to guide what the GOV.UK team does between now and April 2016. This post shares what those goals are, and what we're doing next to work out how we achieve them.
Input from colleagues
This is an iteration of the draft goals we shared in March, taking on board feedback from the GOV.UK Steering Group (our regular meeting with senior digital colleagues from across government), hundreds of our government users at the first GOV.UK conference, and everyone on the GOV.UK team at a recent internal event.
Planning is guessing
A lot of work has gone into making these goals as accurate a reflection as possible of what we expect to achieve. They represent our best current understanding of what's important to our users, and are realistic (albeit ambitious) about the progress we think we'll make this year, given the new normal for GOV.UK and the size of our teams.
But all planning is guessing. As an agile organisation we replan continuously, adapting in the light of new evidence and making sure we're always working on the most important things. We'll review delivery against these goals roughly each quarter, revising them as needed and re-issuing them as part of the roadmap (as we did throughout the past year).
Vision
The vision for GOV.UK remains unchanged: Simpler, clearer, faster access to government services and information.
That means providing a single place for people to interact with government that's as frictionless as possible, and which continuously improves. And it means providing a platform that helps government understand and meet users' needs.
Responsibilities
The GOV.UK team has 2 main responsibilities. This is our 'business as usual'.
Running and supporting GOV.UK
Our first responsibility is to run GOV.UK and support all its users. Running GOV.UK means keeping the site available, accurate, fast and safe. Supporting our users means swiftly replying to their every request, and quickly resolving their most urgent and important problems. We do 100% of this work, and we do it first.
Improving GOV.UK
Our second responsibility is to keep making it better. GOV.UK isn't finished and never will be. We're committed to continuously improving how well we meet users' needs - those we meet already and new needs as they arise. We work on improving GOV.UK with the remaining capacity in our teams after running and supporting the site.
Goals for 2015 to 2016
Our goals define the changes we want to make by April 2016, to carry out our responsibilities even better.
A focus on quality
Our focus to date has been on building the single domain and transitioning organisations to it quickly. We recognise that this sometimes meant compromising quality, so our goals this year are about increasing quality in the areas where we've under-invested.
Running and supporting GOV.UK
1. Join up support and production
We want to provide a more efficient service to GOV.UK's users. To do this we need to:
improve the workflow behind processing and responding to support requests
complete documentation of our applications and products
automate common tasks where possible
get better at communicating with our users about upcoming changes
2. Measure and improve performance levels
To make sure the service to users is improving, we need to address the gaps in how we measure, segment and report on performance levels. We also need to act on what the data is telling us. We have Key Performance Indicators that we report on internally each month, but we can be more accountable and responsible about tracking, publishing and improving GOV.UK's service performance.
Improving GOV.UK
3. Really design with data
We've held firm to our first principle of starting with needs, but can do more to embed a needs- and evidence-based approach into our software and process. By April 2016 we need to make sure feedback and evidence of needs forms the basis of every product and content decision. This means:
addressing gaps in our analytics
making sure needs are documented for all new content
improving how we put user feedback and usage data in front of the right people to help them improve content and functionality
4. Make it easier for users to find things
We've brought content from hundreds of government organisations into a single place, but there's much more work to do to structure it in a way that makes it easy for users to find what they need. We'll improve search and navigation on GOV.UK, based on understanding users' diverse needs. And we'll work across government to group services and information into a thematic information architecture that meets those needs.
5. Reform GOV.UK's technical architecture
Our codebase and systems architecture have become difficult to maintain and change. They were built quickly, in parallel, to allow transition to happen. We need to simplify them into a coherent system so the platform becomes easier for developers to work with, making it faster to improve GOV.UK in future.
6. Iterate the most minimal, least viable products
We have a broad and complex set of features. Now it's time to identify the most minimal, least viable areas of GOV.UK that are not fully meeting users' needs, and bring them up to the same standard as the rest of GOV.UK. (We won't be able to iterate the whole site in a year. For the areas we can't reach this year, we'll document ideas and requests for future reference).
Detailed planning
While continuing to maintain the site and make valuable improvements, our teams have been working on the specific detail of how we achieve these goals.
Each team is currently reviewing and adding to a list of the potential milestones (or "missions" - as in the mission patch stickers you may have seen us wearing with pride on our laptops) which map to our goals.
This long-list combines the known, high-priority problems that users and government colleagues have told us are important to solve, and the thinking we've been doing about how to reach the goals.
Each team is challenging, updating and adding to this list. On 29 June we'll review and prioritise it to make sure we're being ambitious and working on the most important things first.
We'll look at various factors, such as:
evidence of user needs
impact on end users and government users
urgency and cost of delay
technical complexity or dependencies that may affect the order we need to do the work in
By the end of the month, we'll have a prioritised list of improvements, which will form the basis of an updated roadmap.
We'll keep prioritising the detailed list and we'll share the roadmap regularly - subscribe to email alerts from this blog to stay informed.
Neil Williams is the Product Lead on GOV.UK.