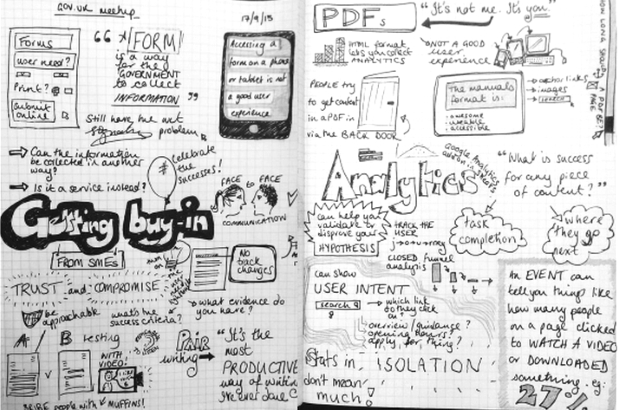 John Ploughman is Content Design Manager at the Driver and Vehicle Standards Agency (DVSA), based in Nottingham. 
Back in February, I hosted the first GOV.UK local meetup for content designers in the Midlands to get together and share ideas, problems and solutions. It went well, so on 17 September we held a second one.
A group of us from DVSA, the Department for Work and Pensions, the Disclosure and Barring Service, HM Revenue and Customs, the Office of the Public Guardian, the National College for Teaching and Leadership and the Skills Funding Agency got together at DVSA's office in Nottingham. We were joined by colleagues from GDS.
In the morning we suggested things we wanted to talk about, and voted on our top 3.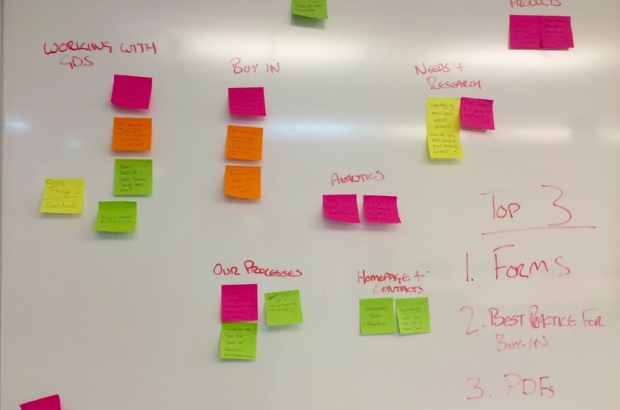 Forms: we all want to fix them
We talked about forms, and how we're handling these at the moment. Forms are being published as:
web forms - with varying levels of logic
PDFs - both 'flat' and 'fillable'
Word documents, and even Excel spreadsheets
We know it's better to build digital services that meet user needs. But where it's not possible to do that straightaway, we need forms.
We acknowledged that coming up with a forms builder for a single organisation is complex. And a single solution for all government would be even more complex.
So when designing a form, it's important to remember these things:
make sure there's a user need for it
keep to one thing per page
downloadable forms for users to fill in and email back will be hard to use on mobile devices
if you do need a downloadable form, publish it in an open document format
only use a paper form if you really need to - and if you do, follow the forms guidance in the service manual
Subject matter experts: face-to-face meetings improve relationships
We all want to improve how we work with subject matter experts. It has to start by us acknowledging their expertise in their subject - and them acknowledging our expertise in content design.
There's some great work going on, with people holding regular forums with subject matter experts. They're looking at what's working, and what's not - and sharing data and feedback from Feedex.
We all agree that meeting face-to-face to build up a relationship works well. And if you want to take things further, pair writing can be a really effective way of designing content.
We talked about how user research can help subject matter experts understand their users. That can be:
simple - like reminding them that users with highest literacy levels and greatest expertise tend to read the most, so need clarity and brevity
more bespoke - like filming guerilla testing and showing them the results; this can be much more powerful than a presentation full of statistics
Even legal drafting is coming over to the world of plain English: see Updates on good law and Clarity.
A top tip was to make sure you're signed up to the GDS design notes and user research blogs to make sure you've got access to the latest information and thinking.
PDFs: we're stopping using them
We know that HTML publications work better than PDFs. They're better for search, better for mobile and comply with open standards. They also give us much better data to help improve our content.
So it was great to hear organisations talking about how they'll now only publish PDFs where there's evidence that PDF is needed to meet the user need. Organisations are publishing in HTML by default. And it's about time.
There was a lot of respect for the work that had been done to publish the Summer 2015 Budget in HTML.
Using Google Analytics, we can now track how often PDFs are downloaded. Where a publication is dual-published in HTML and PDF, we can now show which is more popular.
There are still some very long publications where it's difficult to publish in anything other than PDF. But the development of the manual format means this won't be the case forever.
Google Analytics: getting the most from it
In the afternoon we looked at Google Analytics.
Vinith Pillai, a GDS analyst, gave a great presentation about using analytics and data to test a hypothesis on how things are working.
And it's worth taking a look at this great blog post by Keith Emmerson, Senior Content Designer at GDS, about user journey maps and funnels.
We also talked about using the Google Analytics spreadsheet add-on to create dashboards and run scheduled reports. This is an area where a lot of us would benefit from more training and practise.
Organise your own meetup
Thank you to everyone who came and contributed on the day. It really is great to be starting to build up our community.
If you've enjoyed reading this, why not organise your own meetup? It'd be brilliant to see these popping up in other places - and to read about your discussions. Get in touch if you want any advice on running your own.