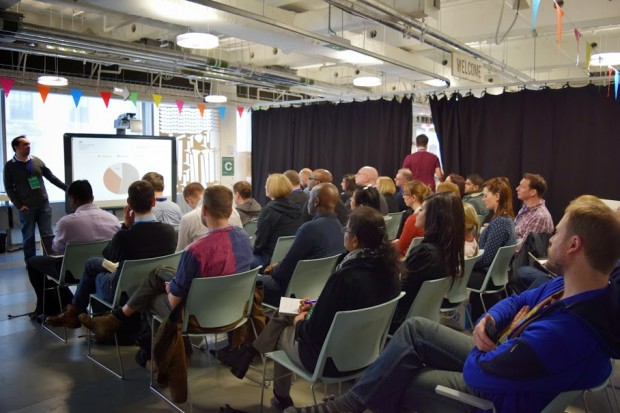 I was lucky enough to attend the first GOV.UK content design conference (#cdcalpha) and lead one of the sessions. I wanted to talk about HTML publications – and I was really chuffed that lots of other people did too.
I don't want anyone to miss out - so here's a recap of the session and why I think HTML publications on GOV.UK are so important.
I think there are 3 really important reasons why we should use HTML publications on GOV.UK:
they're better for search
they're better for mobile
they comply with open standards
Better for search
There's so much great metadata in HTML publications.
We should, of course, make sure that PDFs we publish have this same metadata, but it can get overlooked because of time or technology constraints.
But with HTML publications, we don't need to worry – it's all in there for us automatically. This helps to give users better search results.
Another reason this is becoming really important is the way that search engines work. You may have noticed that if you search Google on your mobile, it will tell you which pages are mobile-friendly.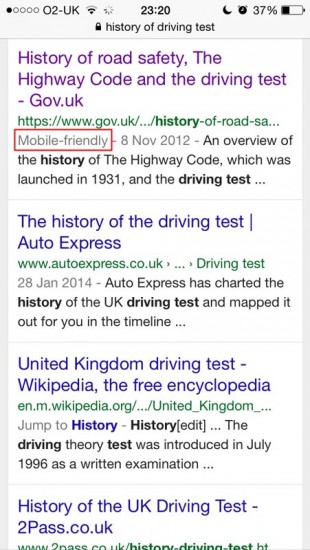 If you're anything like me, this makes a big difference as to whether you click on the result.
Google is already experimenting with using the mobile-friendly criteria as a ranking signal. How much longer before it becomes a much more important criteria?
Better for mobile
HTML publications work so much better on a mobile device than a PDF does.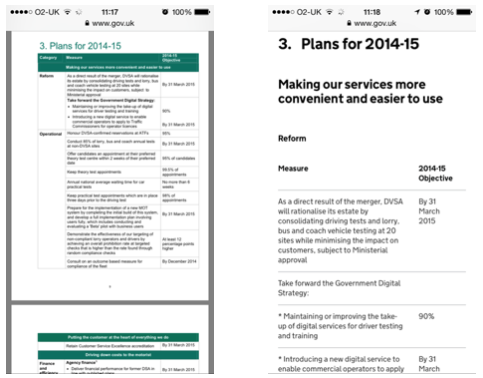 With every passing day this becomes more important. More users are accessing our content on mobile devices.
It's really worth taking a look at your most popular publications and seeing what devices people are using to access them. The results might surprise you.
How to find this in Google Analytics
Go to the 'Behaviour' tab.
Click on 'Site Content'.
Click on 'All Pages'.
In the search box above the list of pages, copy and paste the page URL from /government onwards – eg '/government/publications/rules-on-drivers-hours-and-tachographs-goods-vehicles-in-gb' and search.
Click on the 'Secondary Dimension' button and search for 'Device Category'.
Click the pie chart icon to get a chart view.

If around half of your users are accessing PDF content on a mobile or tablet, I think you must ask yourself if you're meeting those users' needs as best you could.
The print issue
The other reason knowing what type of devices people use is useful is to overcome this statement:
'It needs to be a PDF because people want a printed copy.'
Although you can print from a mobile device, how many people actually do?
If half your users are using a mobile or tablet, is it really likely that they came with the intention of printing something off? It's far more likely that they have a question. Burying the answer in a PDF isn't helping them.
And you can, of course, print a webpage if you need to.
Using data to back up your decisions makes it easier for you to overcome internal resistance to changing how things are done. And most importantly, it makes things better for users.
How to comply with open standards
Back in July 2014 it was announced that government will be moving to publishing documents in newly agreed open formats.
The document 'viewing' standards apply to documents designed primarily for people to read, rather than to edit or interact with.
Documents for 'viewing' must be available in one or both of the following formats:
This is really important.
Users need to be able to view government documents on their device of choice, for example a smartphone, a tablet or a laptop, without the need to pay for any additional software.
I'd argue that in most cases it's just as quick to create an HTML publication in GOV.UK as it is to make a fully accessible PDF/A document. And in some cases, it's quicker.
We've got to do this, so why not choose the option that makes life easier for users and for us?
My top 7 tips on using HTML publications
These are my top 7 tips for using the HTML publication format. If you have any, do leave them in the comments.
1. Get people resistant to change to view a PDF on a mobile device.
This is a really effective way of making people experience what your users are experiencing. When you've got them to see how painful it is, hit them with the figures.
2. Use Google Analytics to see how users are viewing your publications.
You can use Google Analytics to see what types of devices are being used to access any page on GOV.UK. Find out how many people are using mobiles and tablets to access your most viewed publications to get a feel for things.
3. Use Feedex to see real feedback from users who are struggling with existing formats.
Feedback Explorer (Feedex) is a simple way of seeing what anonymous feedback has been left about any page on GOV.UK.
4. Use the Whitehall publisher preview environment to have a go.
You can use the Whitehall publisher preview environment to create and publish HTML publications. It can be another useful way of showing subject matter experts how things will look and how navigation will work when it's published.
5. Publish a real one and see how it performs.
There's nothing like actually having a real HTML publication live on GOV.UK to see how users actually use it. Use Google Analytics to look at how people are viewing it, which links they click on, and whether they start internal searches from your publication. This can help you find out if there's anything missing from your publication, or if it's full of links that nobody is using (ie clutter).
6. See what other organisations are doing with HTML publications.
Be nosey. There are some great examples of HTML publications on GOV.UK. From business plans to the national curriculum, content designers are already using the format really well. Look at what they're doing and follow their lead.
7. Consider making it the default unless there's a user need to use PDF/A.
Why not make HTML publications the default format for publications in your organisation? You can publish in PDF/A format if there's a compelling user need, and there's evidence to support it. But if you start to change the culture by changing your default stance, internal people will get used to it surprisingly quickly.
Then we talked about how we could overcome some of the challenges to using HTML publications.