For the first time on GOV.UK, we published the Budget as a web page. We know that publications work better as HTML publications rather than PDFs. They're better for search, better for mobile and comply with open standards.
Let's HTML the thing
The Budget sets out the chancellor's spending plans for the year with a proposal for how the government will pay for them. It's the most important document the government publishes - and the biggest event in HM Treasury's calendar.
Changes to things like wages, tax, benefits and pensions are outlined for citizens and businesses.
So how can GOV.UK users find out what's happening?
A few thousand copies of the Budget statement are printed for the press and for ministers. If you want to view it online you're looking at over 120 pages of PDF. If you're on a tablet or smartphone, forget it. You won't find what you need in a huge document of tiny text that you can't navigate through.
Google Analytics tells us that 24% of the 133,043 page views of the Budget publication page are from a mobile device. This year, 68% of users who got to this page chose to view the HTML publication.
Users could also read the announcements in plain English, thanks to GDS content designer Jane Eastwood working closely with HM Treasury (HMT).
Building our relationship with HMT
We worked very closely with our colleagues at HMT to plan and produce the publication. We explained the benefits of the new format and HMT policy staff were open to improving accessibility.
We had regular meetings with the digital communications team at HMT. We ran mock sessions to estimate how long it would take to convert the InDesign files used to create the PDF into the 'Markdown' code we use on GOV.UK. We wrote lists of everything we could think of that could go wrong, from a Wifi and security pass fail, to Whitehall Publisher downtime.
We found the project was a great way of getting to know more about GDS, simply because we had more face-to-face chats. We learnt more about each other's organisations in an informal way.

Kylie Clark, Digital Communications team at HM Treasury
We worked all night to get it to you
We started work at 10pm the night before and formatted or uploaded a mammoth 12 tables, 25 charts, 99 footnotes and over 40,000 words from InDesign to Markdown.
We felt the pressure but the adrenaline kicked in. We worked through the night to meet the 7am deadline, which was tough. It's a testament to the working culture at GDS and the content design team that we were as focused on supporting each other through the process as we were on building the publication.
Knowing that we were helping users to easily access and digest the information made it a rewarding project. It certainly helped when we left Whitehall bleary eyed at 11am.
User feedback
We had some positive feedback from Twitter: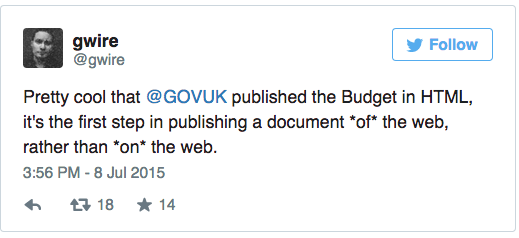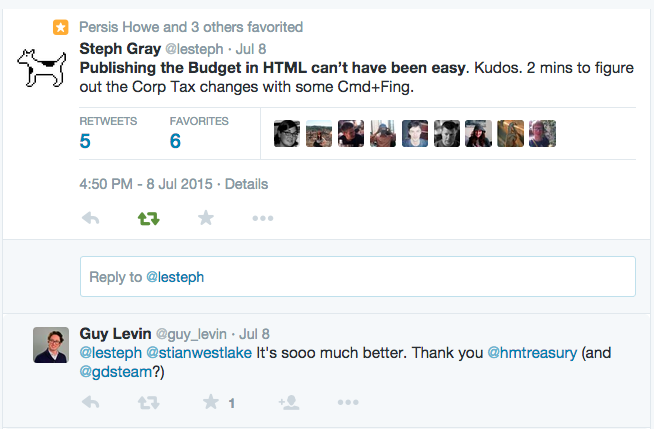 What's next
We're analysing the data to better understand how users interact with the Budget and what needs they have of it. We'll be working more with HMT to refine user journeys and to iterate and improve what we do for the Autumn Statement and future Budgets. Onwards!