The content team is dealing with more requests than ever before, and there wasn't a small amount to begin with. Liz Lutgendorff's post from last December on the content team's year in numbers gives you a sense of the amount of work needed to keep GOV.UK running.
But it's hard to worry about what everyone else is doing if you just need to get the site updated and it's taking longer than you thought. We're aware of that and we know how frustrating it is.
That's why we thought you'd like to hear about the changes we're making to speed things up.
More people doing 2i
Before any mainstream content gets published, it has to pass a second pair of eyes (or '2i') review - it helps us to keep mainstream content consistent, accurate and excellent. But it can also be a bottleneck if you're expecting a speedy update to the site.
The number of people doing 2i has historically (and deliberately) been small - at one point it was just me checking every single item on my own. Over time it's grown to include our most experienced content designers and now we're making sure that everyone on the GOV.UK content team has the opportunity to join the 2i pool.
We've got an induction programme with a mentor to help someone develop, followed by a test and a probation period before they can get stuck in to the 2i queue.
It's working well: we've added 3 new members to the previous pool of 8, and we've got 2 more ready to join. More people doing 2i means updates get published more quickly.
Keeping the 2i queue in check
One of the content team's delivery managers, Jessica, has been painfully aware that 2i is not an easy job to make time for. Everyone in the 2i pool still has to do all the other work of a content designer too.
Jessica has been tracking the 2i queue in order to make sure we don't forget how easily a manageable amount can become a liability. Her focus has been on the number of items in the queue, the age of the oldest item, and how many items are older than a week.
Here's a quick look at the data: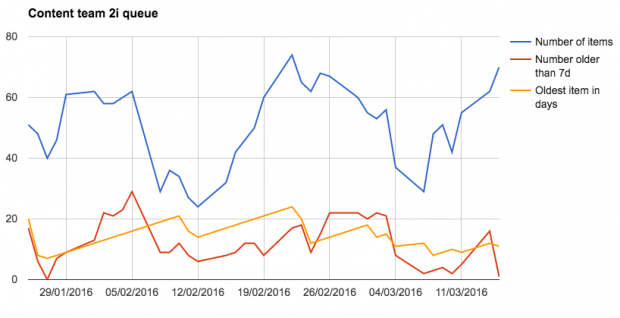 Right now we have a lot of items in the queue, but they're pretty much all new. This is because we're focused on making a number of updates for the start of the new financial year (changing fees, etc). Small but vital changes that can only be made near the time.
By seeing these numbers every day (they're on a whiteboard where we have our stand ups), we know when we need to dedicate time or people to do 2i work and to push your updates through.
A dedicated triage team
We've hired a few new junior content designers recently, which is great just in terms of increasing our ability to handle a larger backlog. On top of that, our new starters have become a dedicated team for dealing with queries we receive from members of the public or those outside of government.
Previously we had a rota (of 2 people at a time) to deal with these enquiries, but now we can deal with them much quicker, contact departments and agencies to ask clarification, or update the site if possible.
Quicker turnaround for small changes
We operate a 10-minute rule for content requests: if the change is quick and clear, it'll be done in triage rather than pushed into the backlog to be looked at later.
But, as above, 2i can be a bottleneck and so that 10-minute rule creates a false impression of how quickly the site will get updated. The change could still sit for a week waiting for someone to approve and publish it.
We've now dedicated at least one person from the 2i pool to be on duty each day to watch for anything in the queue that's come from triage. It still won't go live in 10 minutes, but it's going to speed things up considerably.
Zendesk workshops
The best way to get an update made quickly is to write a clear and sensible content request. We're starting to do a number of Zendesk workshops to help everyone understand how we process requests and how to write tickets so that nobody has to spend extra time going back and forth trying to get an answer or an explanation.
We're just getting started with this so we're refining the sorts of things we need to concentrate on, but get in touch with us if you've got any ideas or if you feel like you'd benefit from a workshop.
Come and work with us
Finally, we've seen some amazing improvements by just getting content designers to work together. We're always happy to have guests at Aviation House, so get in touch if you'd like to spend a couple of days with us to see how we work and how we can improve. We're happy to come to you if that's easier.
There will be more to talk about soon, but for now we hope this gives you some idea of how we're trying to improve our processes. We hope you work with us in making sure GOV.UK gives our users what they need.