The GOV.UK proposition sets out which government information and services should go on the GOV.UK website. It defines the role of GOV.UK, and helps departments and GDS determine where to put the new digital products that the government develops.
GOV.UK is built on the fundamental principle that bringing things together makes it easier and quicker for users to access government services and information.
We've recently updated the GOV.UK proposition. This blog post explains what we've changed and why.
GOV.UK is doing more
The GOV.UK proposition was first published in 2014. It was developed to meet the challenge of bringing together the work of 24 ministerial departments and 410 agencies and public bodies in a single place. During that time the proposition was essential in defining what GOV.UK was for, and determining what needs the new website should meet and which of government's thousands of items of content and services would transition to it.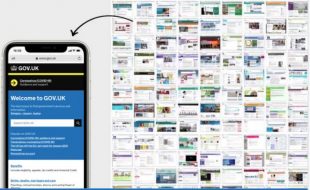 We've added to what we started out doing with GOV.UK, offering more support across the personal and professional needs that people have. For example, GOV.UK has played a critical role in providing information and services during major UK events - by supporting high-impact campaigns on the platform for Brexit and UK transition and coronavirus. The development of 'Government as a Service' products and the GOV.UK Design System means that GOV.UK can support complex services better than ever before, meeting the needs that departments have previously requested exemptions for.
The proposition builds on public recognition of and trust in GOV.UK. This is something we actively protect, for example by challenging the use of visual elements by unauthorised third-parties through legal and technical routes. Government departments need to make the most of that recognition and trust.
And GOV.UK will keep changing. We have ambitious plans for how GOV.UK will evolve to offer a more personalised and joined up experience for users, with improved support for third-party consumption of data (for example, through voice assistants), and data sharing between GOV.UK services. 
Why a change was overdue
So as the range of what GOV.UK can offer increases, along with public recognition and use, it's important that the proposition reflects this too. The proposition also helps colleagues across government to understand where there may be a genuine case for delivery to be separate from GOV.UK. 
Updating the proposition to reflect what GOV.UK can provide was overdue. For this reason we will now treat the proposition as a live document, which we expect to update at least every year.
What we've changed
The new proposition has also been informed by feedback from users of the proposition both in GDS and across government on what works and what doesn't, which bits are clear, and what's ambiguous or confusing.
Here are the main changes we've made.
Added a list of the domains that make up the GOV.UK website (

for example,

campaign.gov.uk

and

service.gov.uk

), and what we use each domain for. This also helps clarify the difference between .gov.uk as a domain and GOV.UK as a website. GOV.UK is made up of a number of .gov.uk domains, however by using consistent visual elements and patterns, and ensuring journeys between the different domains are seamless, we operate GOV.UK as a single website and brand.

Updated information on what should go on GOV.UK to reflect the broad range of content and services that are now offered through GOV.UK – such as campaign activity and raising awareness, reflecting GOV.UK's role in providing key information and access to services during major national events.

Clarified what does not go on GOV.UK – such as party political content, advertising, and anything that doesn't support commercial neutrality. We've also updated the list of organisations that operate independently from GOV.UK. This should help organisations decide whether their content or service should sit on GOV.UK.

Combined the guidance on which government websites and domains are exempt from GOV.UK, along with what must go on GOV.UK – putting these into a single document makes the guidance easier to follow. 
Exemptions from GOV.UK
In most cases GOV.UK will be the best/only place for government content and services – given its domain authority, and as the well established and trusted government online brand.
Organisations and teams must always apply for an exemption from GOV.UK if they are planning to operate separately from the GOV.UK website. While the qualifying requirements are now more stringent, we've kept the exemption process for content and services that either fall outside the GOV.UK remit, or where user needs would be better met off GOV.UK.
As GOV.UK continues to develop and provide greater functionality there will be less of a case for exemptions from the site.
We're also reviewing the exemptions we've granted in the past against the updated proposition. This will give us a clearer view of what should be on the platform and whether sites and services currently operating separately from GOV.UK would be better met through GOV.UK. Where these sites and services can move to GOV.UK, we will support them in making the transition. Moving forward, we want more government's digital activity to be on GOV.UK. 
A living document
Over the next year we will monitor how the updated proposition performs, actively gathering feedback, monitoring the benefits of more things being in scope, and reviewing exemption requests, to identify what changes we can make for next year's review. We'd really welcome your views to help inform the future development of the proposition.