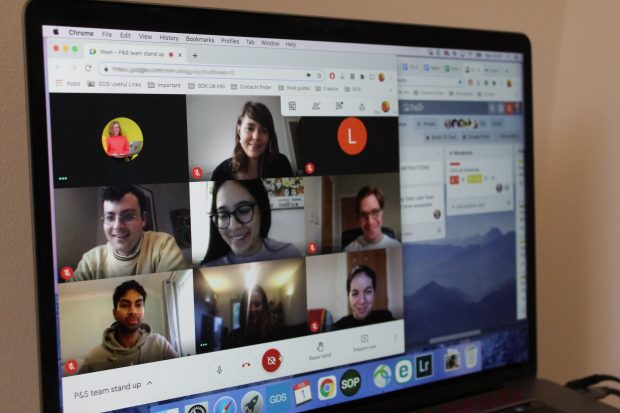 There's lots happening at GOV.UK right now and many more developments coming soon. We're making our strategy of providing trusted, joined-up and personalised interactions for users a reality; we're providing critical Brexit and COVID-19 guidance to millions of people as the home of all UK government content; and we're making sure everything we run is accessible, reliable and secure.
All of this is only possible because of the fantastic people who make the 220-strong GOV.UK team. It's a multidisciplinary programme made up of technologists, data scientists, delivery and product managers, user researchers, policy advisors and content designers, to name just a few job titles. It's a team that we've both recently re-joined and we can vouch that it's a great time to return.
We're growing across the disciplines, including inviting applications for our Head of Programme Delivery role.
Being Head of Programme Delivery on GOV.UK
Working at GOV.UK certainly provides variation! We're a big programme that covers updating the coronavirus landing page to reflect latest guidance, trialling a GOV.UK Account, exploring how data science can improve GOV.UK and much more.
The Head of Programme Delivery on GOV.UK is a role on the senior management team (SMT), working closely with both of us, other members of SMT and Jen Allum, Head of GOV.UK. Essentially, this role makes sure GOV.UK is set up to implement its roadmap in a sustainable way.
In a fast-paced environment, you'll be:
overseeing the GOV.UK delivery management community and operations team
shaping how teams are structured across the programme
iterating delivery governance
making sure GOV.UK's delivery approach is sustainable and efficient
An important element of this role is growing delivery capabilities within GOV.UK, at all levels of the delivery manager career path. We want to hear from applicants on how they can keep this support going and ideas on how to enable delivery culture in GOV.UK, especially with distributed teams working across different locations.
A working day could involve:
helping a team replan their workload
having development conversations with lead delivery managers
reviewing business cases for priority activities
testing wider recruitment plans with the rest of the senior management team
welcoming a new Associate Delivery Manager to GOV.UK.
Please read the job description for more details on the role.
What you may be doing now
We wanted to emphasise that we're not looking for applicants with one very specific career path. This may be your first role in the public sector after leading medium to large digital transformation programmes in the private sector or you might be an active member of the Civil Service's Digital, Data and Technology (DDaT) community overseeing delivery across different work streams.
We're looking for people who are excited about the future of GOV.UK, pragmatic about the challenges and who have the relevant experience in coordinating digital delivery at scale. This, generally speaking, translates to people who are used to working in large teams (more than 150 people) on high profile content and in a fast paced environment.
We're hoping the people that apply will have significant leadership experience and be energised by what's possible through the scope of a programme of work like GOV.UK.
What you want to be doing next
If this all sounds like work you want to be involved with and a place you want to be - that's great news!
We're both long-standing members of GDS. It's a brilliant place to work, with a thriving set of networks. Between the 2 of us, Rachel is GDS's LGBT+ Group Senior Civil Service Champion and Ross is part of the Product and Service Management Community.
It's important to us, and to the whole of GDS, that it is an inclusive organisation and reflects the society we serve. Diversity is valued and as civil servants we're part of an organisation that aims to be the UK's most inclusive employer.
We talk regularly about our workplace culture, including Chucks Iwuagwu's, former Head of Delivery on GOV.UK, blog post on what it's like to work on GOV.UK. You can also look at our social media channels on Twitter, Instagram and LinkedIn.
Location, location, location
As you would expect, it's likely you'll be joining GDS initially remotely. Like much of government, since March 2020 we've adapted to being a largely working from home organisation.
The role will be based in our Bristol or Manchester offices, regions where GDS is actively recruiting skilled digital, data and technology professionals. Both of us are based outside of London and when we do return to office working we are committed to making sure teams can thrive regardless of where different members are based.
Apply
If you're interested to find out more about our work, read the GDS Blog and the other blog posts on Inside GOV.UK.
Applications are open until 1 March 2021, and you can apply through the job advert.
We're excited to hear from you!