In the last few weeks, we've been taking a look at how people browse and navigate GOV.UK. We've just made a start with some HTML prototypes and research in the usability lab.
Right now, we're not very good at helping people find content, even really popular content. We're also not very good at helping people explore new areas they're unfamiliar with. But we're thinking hard about how to make these interactions better for users.
Here's an example. The tax disc page is the second most popular on GOV.UK, with 2.5m visitors a month. Yet there's no prominent link on the homepage; there's not even a prominent link on the browse page for Driving and transport.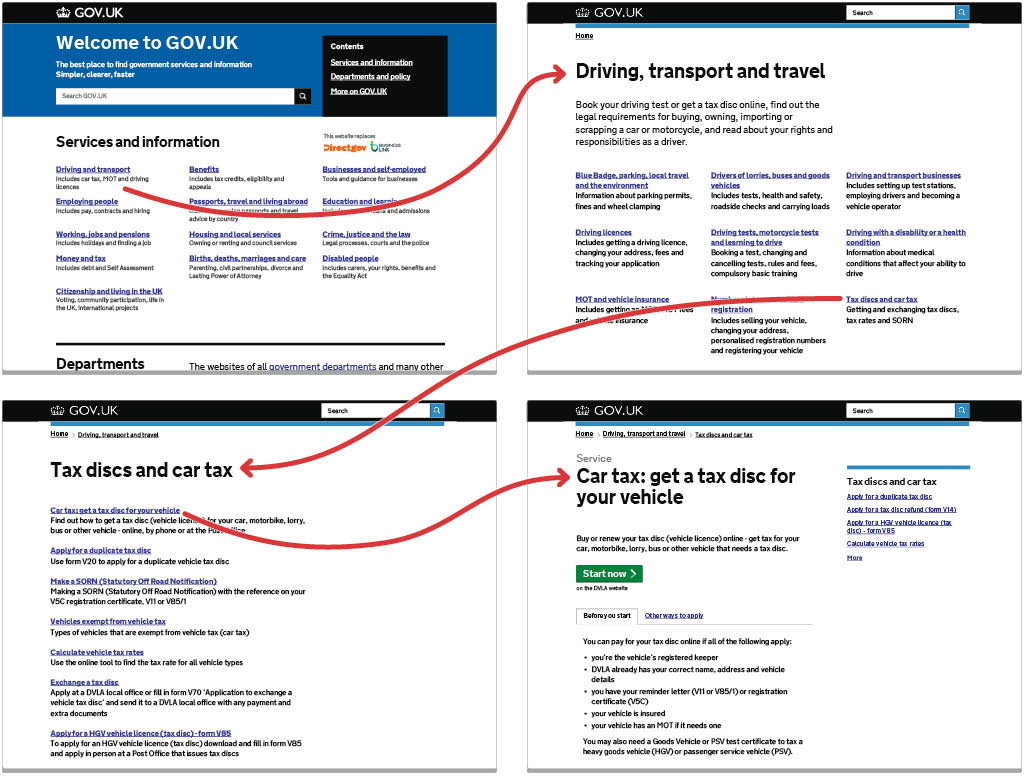 Simpler, clearer and faster
In our new design for the Driving and transport page, the tax disc service is right at the top of the page. We've also highlighted two other popular areas – Learning to drive and Driving licences. Analytics will automatically show popular links in every category.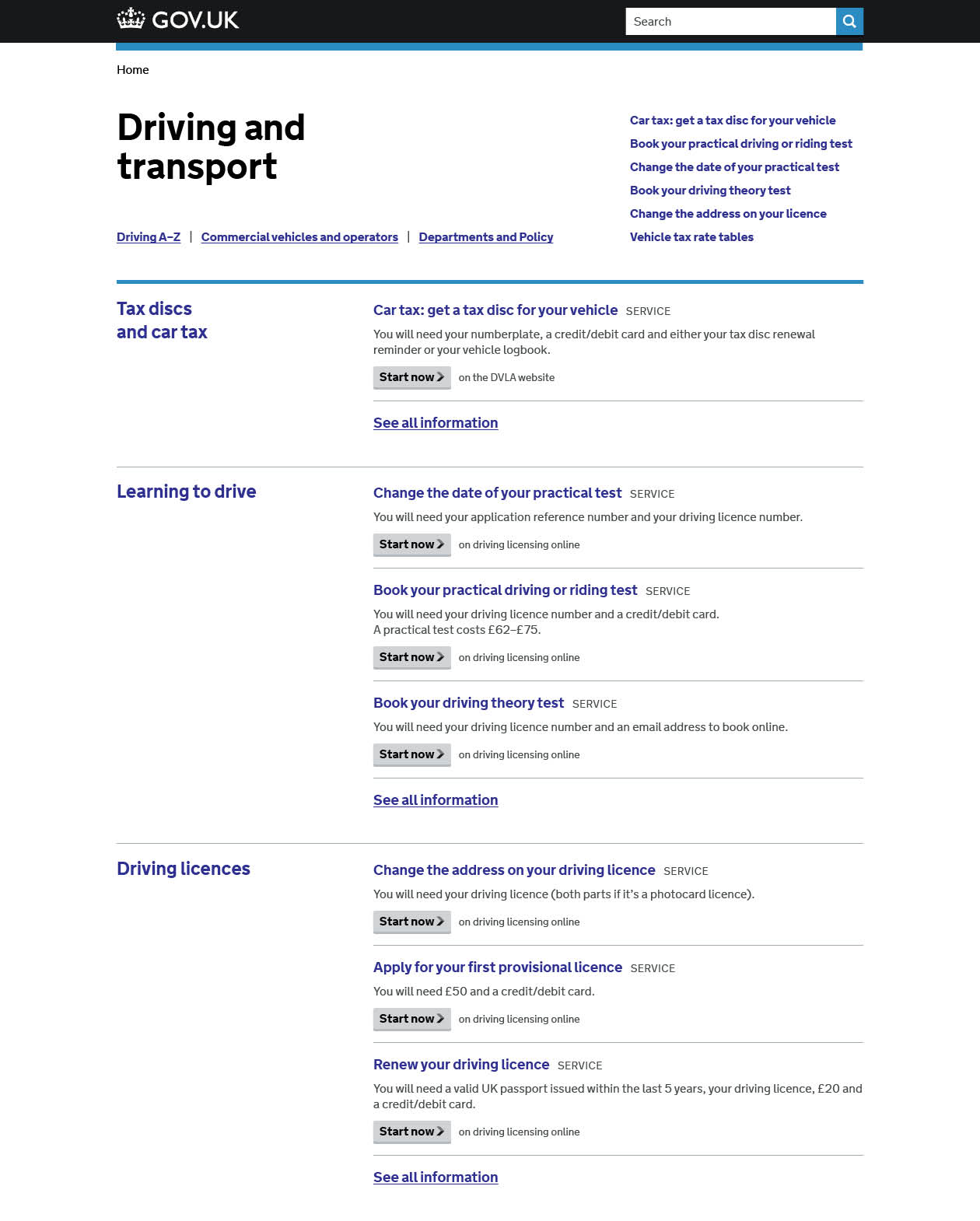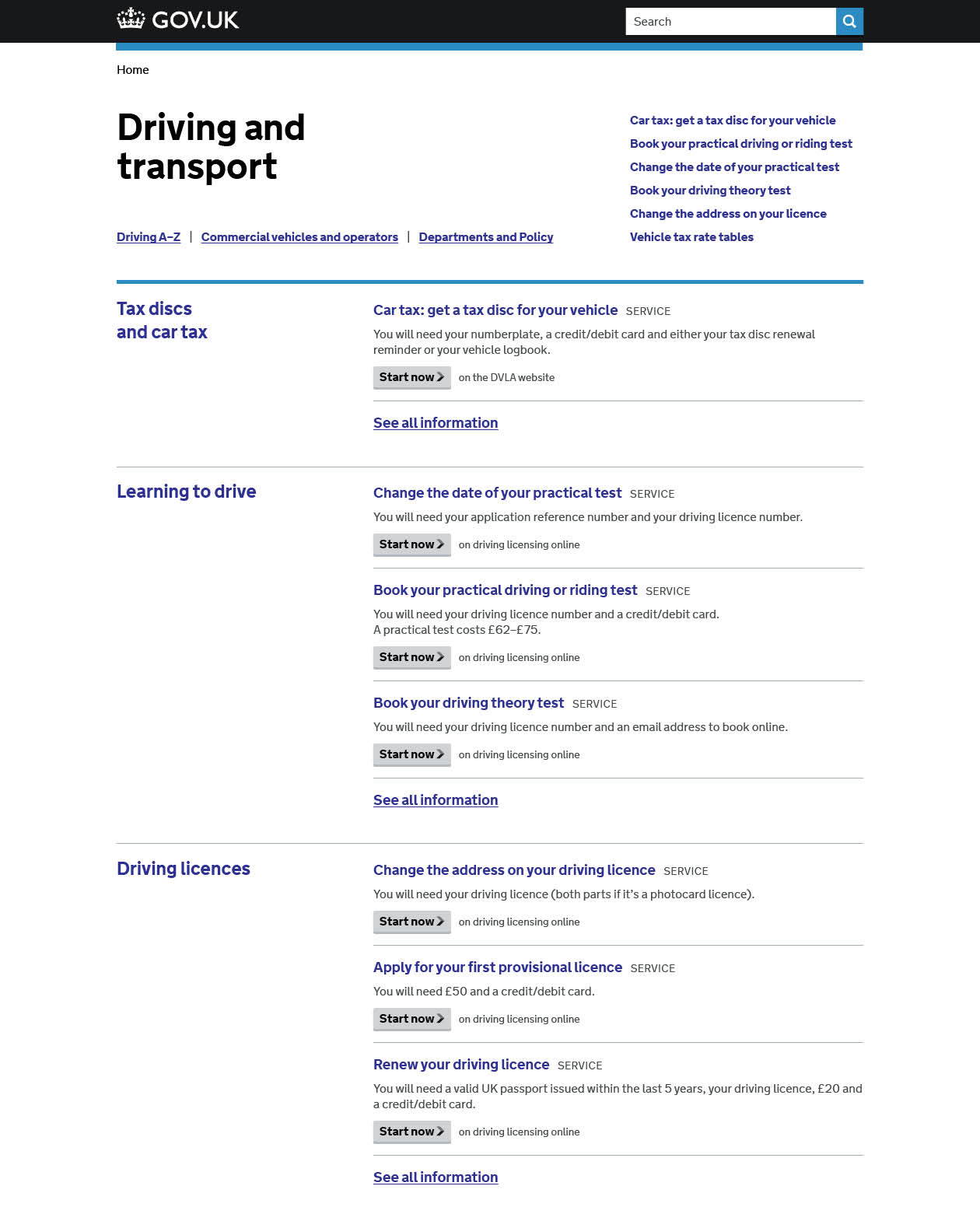 We've also made it easier to find niche information and services. The Driving A–Z shows all the general topics in driving and transport. There's also a separate A–Z for Commercial vehicles and operators.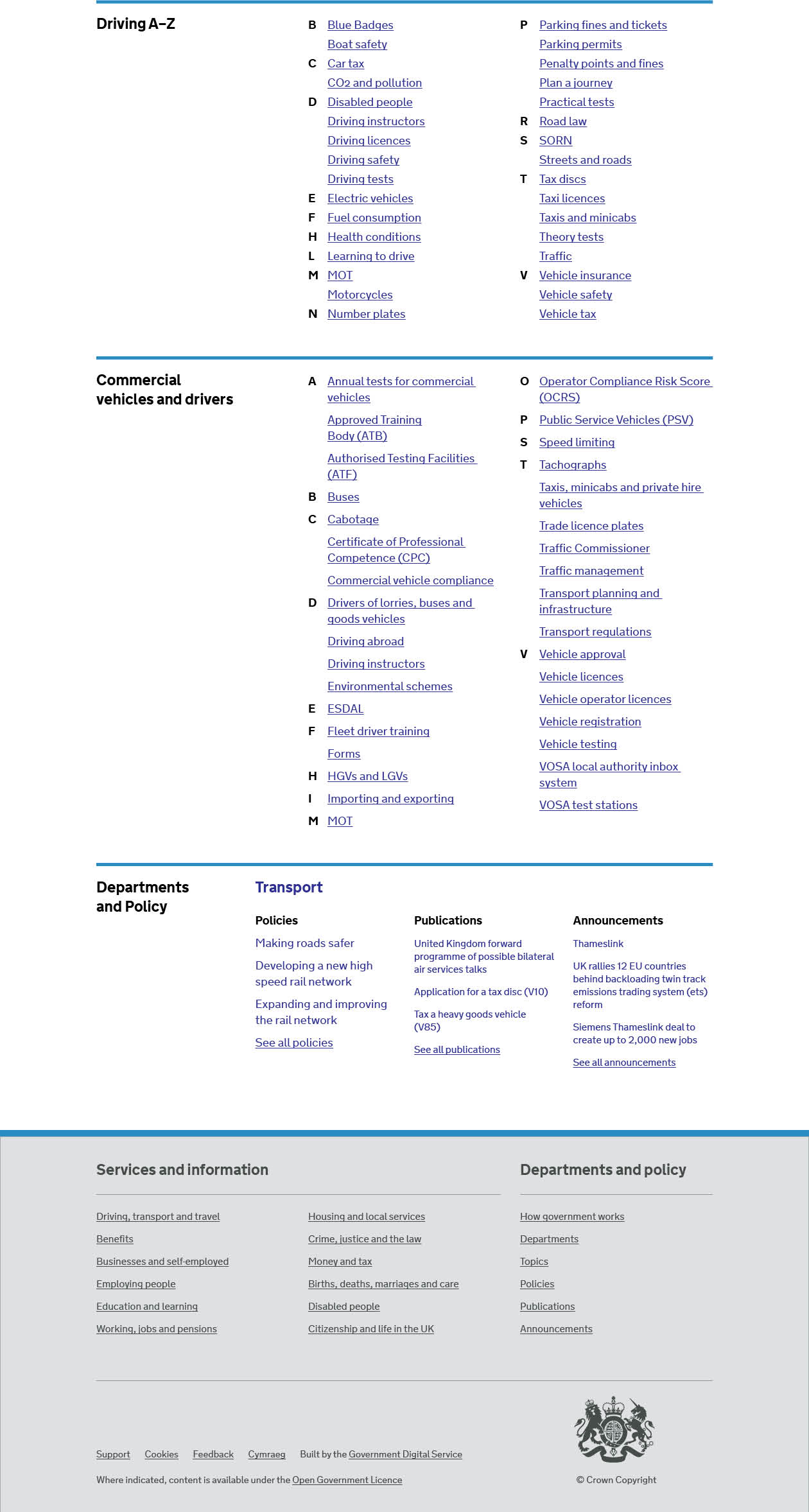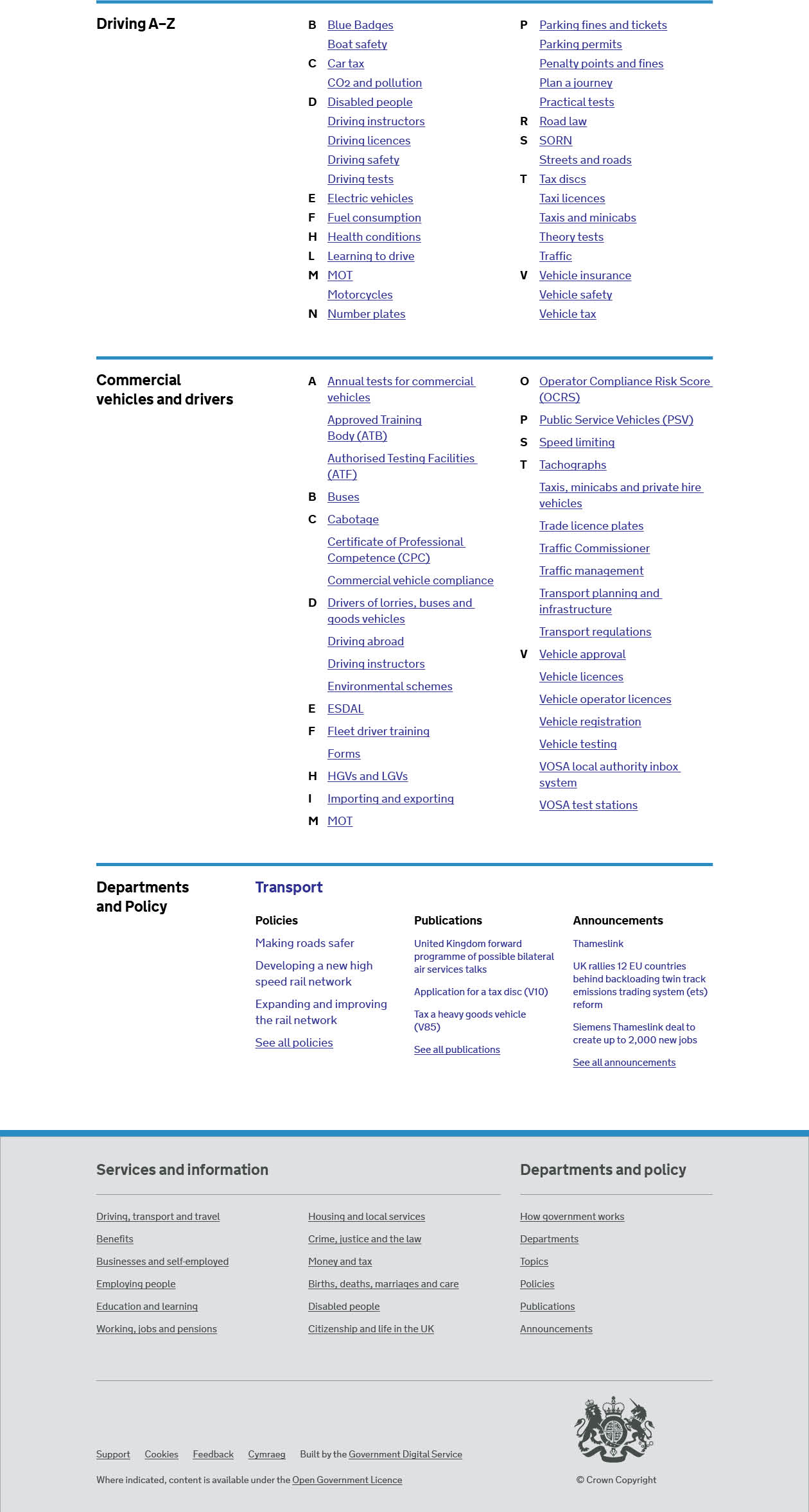 We're surfacing Departments and policy information here too. This is only relevant for a niche audience, but it's very important for people to the people who need it.
Increased focus
We've also taken a look at the subcategories, like MOT or Driving licences. We're making them much more focused – no more categories like these.
In our prototype of the MOT subcategory, we've put the two most popular pages right at the top. We're not just surfacing popular links. We're putting the information people are looking for right in the page. For example, directly under the link to MOT test fees you can see that cars costs £54.85 and motorbikes £29.65.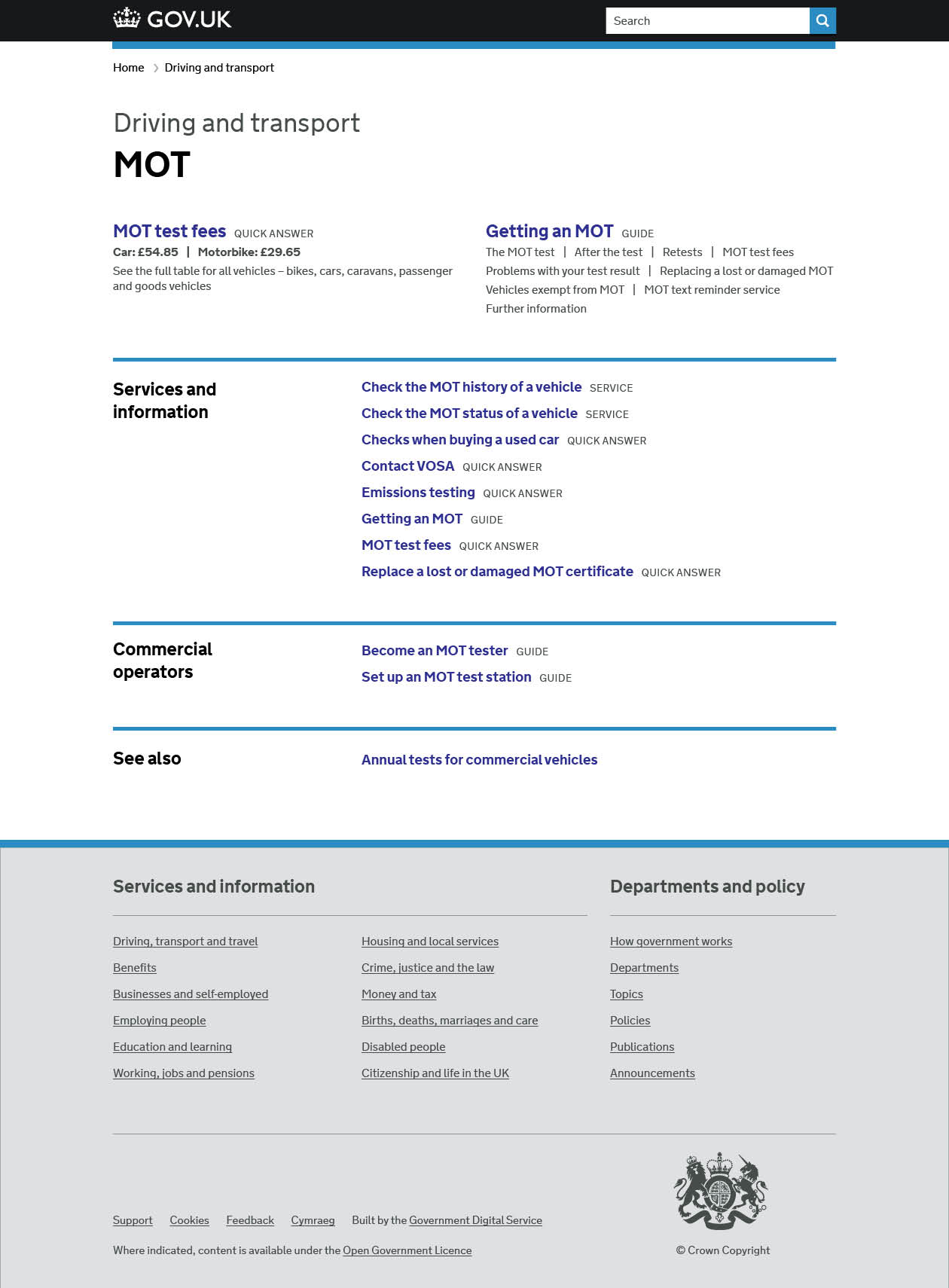 The other pages are listed underneath, with mainstream pages listed before the more specialist information about setting up your own MOT testing business.
Some subcategories have to handle a lot more content. Exporting includes about 20 'mainstream' articles and around 250 detailed guides for export specialists. Filters, sorting and search help users get around more complex subject areas.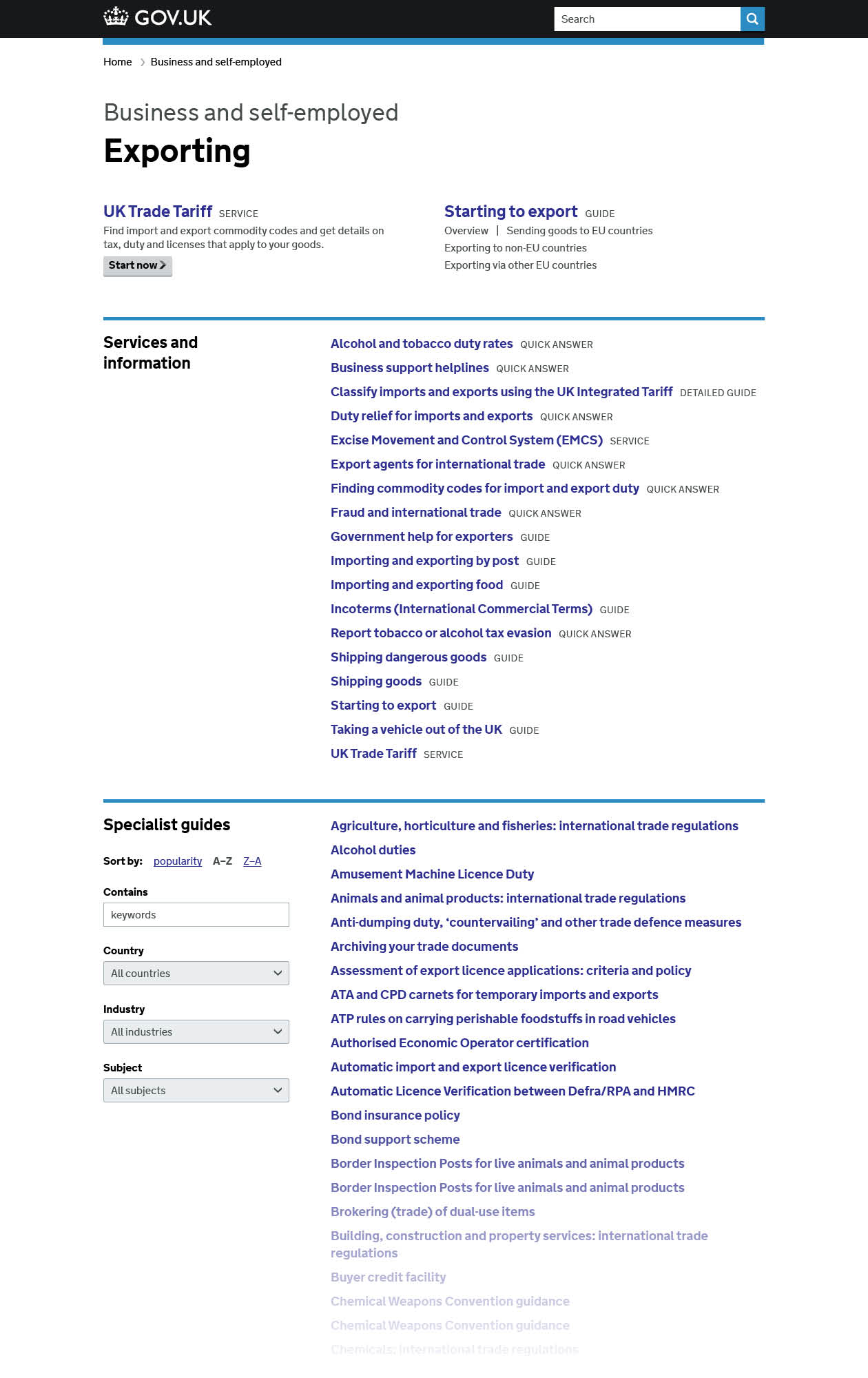 We're also planning to include Departments and policy information on subcategory pages, as well as a feed of the latest updates in that area.
Better URLs
We're no longer just thinking of these pages as simple directories of links. We're aiming to make 'start pages' – pages which get you exactly what you need, whether you visit once a year to renew your tax disc or you visit every day to get the latest in your industry sector.
To reflect this, we're planning to drop /browse from the URL structure. www.gov.uk/browse/driving will live at www.gov.uk/driving. Of course, the old pages will redirect. We're also planning to flatten the URL structure – www.gov.uk/browse/driving/mot will live at www.gov.uk/mot. Say you were an exporting specialist – www.gov.uk/exporting would help you stay up to date with the government's latest guidance and policy changes.
What next?
It's still early days for the browse and navigation project and we'll be testing and iterating these designs over the coming weeks and months. Watch this space!