What are they?
Topics are the top-level groupings of information in the departments and policy area of GOV.UK. They give users an overview of government activity in a particular area, allowing them to understand what the government is doing without having to know which department or agency works on what.
Here's an overview of everything you need to know about them.
There are 47 topics, from 'Arts and culture' to 'Wildlife and animal welfare':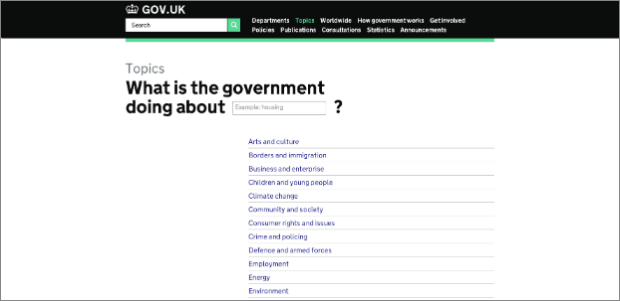 All 223 policies are tagged to one or more topics. Each topic has its own landing page, on which you'll see a list of the policies sitting under it - Children and young people, for example, has 10 policies: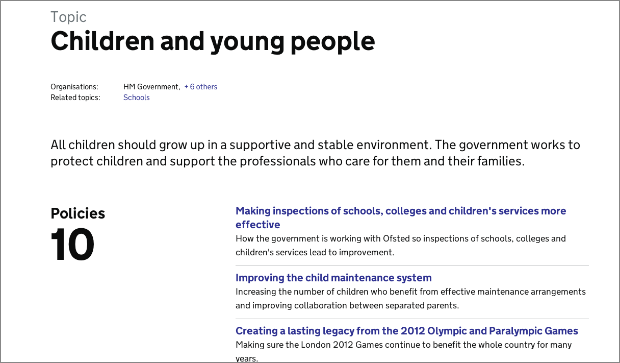 A topic landing page also displays content items associated with a topic: announcements, consultations, publications, statistics and detailed guides. Only the 3 most recent items in each of these categories are displayed; you can click through to see a full list: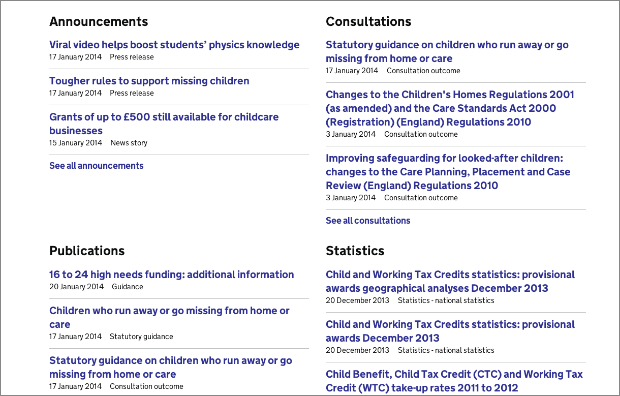 How do they work?
When you create a new content item (news, speech, fatality notice, publication, consultation, statistical data set) you associate it to related policies and topics using 'tagging' - selecting those policies and topics from menus within the content creation form:

Tagging an item to a policy will automatically cause it to be tagged to the topic under which that policy sits:

You can change or add to this topic tagging if you wish.
If your content does not relate to any specific policies, but does relate to the higher-level things that government does, you have the option to ignore the policy tagging altogether and just tag to one or more topics.
Tagging to a topic will cause the item (once published) to be displayed on the topic landing page at the top of the relevant list (of publications, for example). You can tag an item to more than one topic, if appropriate.
Publishing a new version of an existing item and selecting 'Alert the public to what's changed' (ie it's a major change) will have the same effect on the landing pages of whichever topics the item is already tagged to.

If your content doesn't seem to fit into any of the existing topics, use the 'Can't find a suitable topic?' link in Publisher (just below the topics drop-down menu) to suggest a new topic.

Featuring on topic landing pages
Topic landing pages have space for up to 5 featured items: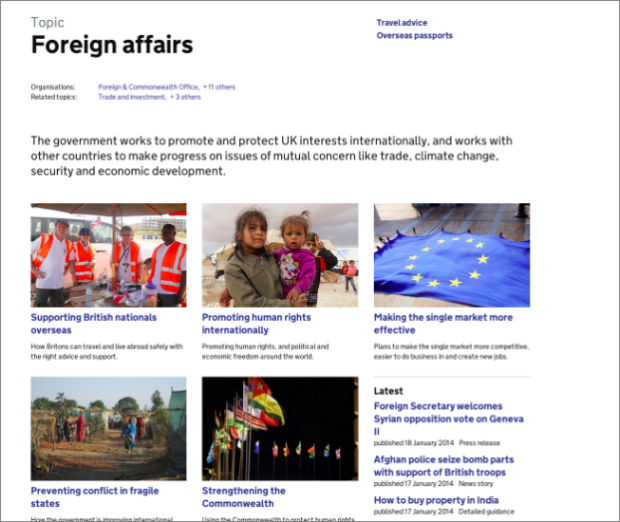 The process for adding a feature is much the same as for an organisation homepage: in Publisher go to More > Topics > [Topic X] > Featured documents and select the items to be featured. There's no ability to filter the list of content items at the moment, but improvements to the interface are in the pipeline. Use your browser's 'find in page' functionality if you can't see the item you want.
Before you feature anything, get in touch with the topic's lead department to agree it. (Please note: since this list was compiled, the topic that used to be called 'Economic growth' is now 'UK economy', and 'Public spending' has become 'Government spending'.)
Associating your organisation with a topic
Organisation homepages have a section called 'We work on these topics'. This lists the topics the organisation has an interest in, and shows the summary text from the topic landing page.
To set your organisation's topics in Publisher, go to Organisation > Details > Edit and select the relevant topics from the dropdown menus. You don't need to request permission from the lead departments.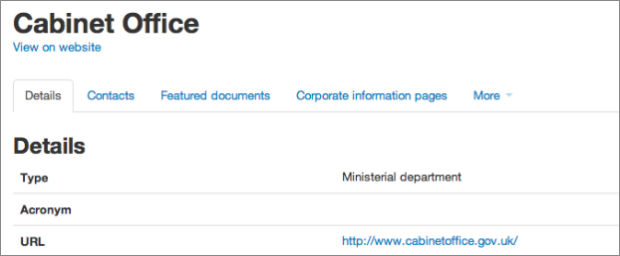 Further reading