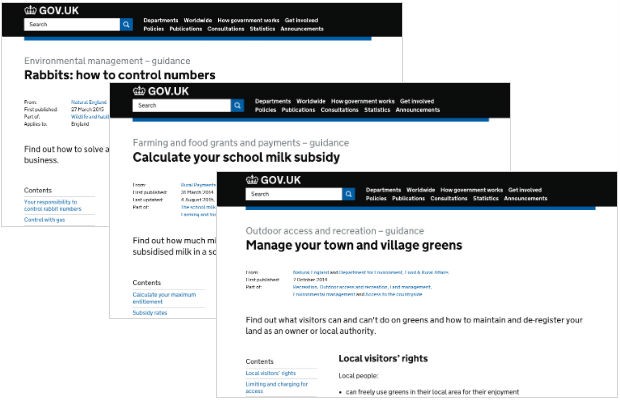 A detailed guide is a content type used for answering specific, task-oriented user needs or providing advice to specialist or professional audiences. There are more than 4,000 detailed guides published on GOV.UK, on topics ranging from calculating your school milk subsidy to managing town and village greens.
Until recently, you would have found a detailed guide under the 'root' URL. For example, the detailed guide on how to solve a pest problem with rabbits was at www.gov.uk/rabbits-how-to-control-numbers.
This is unusual. Content on the root URL is typically designed for a large audience, and meets a high volume, mainstream user need. This could be a guide about paying income tax or the start page for the register to vote service.
Content that's from specific departments or directed at particular audiences is normally published under paths such as:
/government
/guidance
/specialist
This allows users to find the same type of content (ie all publications) under a consistent path. For example, all publications can be found under /government/publications.
We've made detailed guides consistent with this by moving them all off the root URL and onto /guidance. This puts them under the same path as manuals, which are also created for specialist users (though for longer and more complex pieces of content).
Each detailed guide has exactly the same slug (ie the last part of the URL) as before. The content is the same, and the detailed guide appears in the same way in internal and external search results. We've put redirects in place, so users who've saved the old URL for a detailed guide will still be taken to the correct page. All new detailed guides will automatically be created under the /guidance path.
This work is part of making GOV.UK simpler to navigate for users, though most users won't notice any change when looking for an individual detailed guide.
Government publishers need to check the places they've published the URLs to any detailed guides, and update these links.
Analytics
Publishers should also be aware that there will be some changes to their analytics. When you look at analytics for a specific detailed guide, you need to search by its old URL (ie www.gov.uk/thing) to get analytics before mid August 2015, and by its new URL (ie www.gov.uk/guidance/thing) for analytics from mid August 2015 onwards.
While we were completing this work, there was a period when each detailed guide appeared under 2 URLs, its root URL and its /guidance URL. This was because we wanted to make sure all the new /guidance URLs were working correctly before we set up redirects to them from the root URLs. You should be aware that you may therefore have analytics reports that show data for detailed guides under both URLs between 6 August and 26 August 2015.
Finally, you should update the URLs for detailed guides in analytics reports where you've filtered content by URL. Reports where you've filtered content by anything else (ie page title or format) will be unaffected.