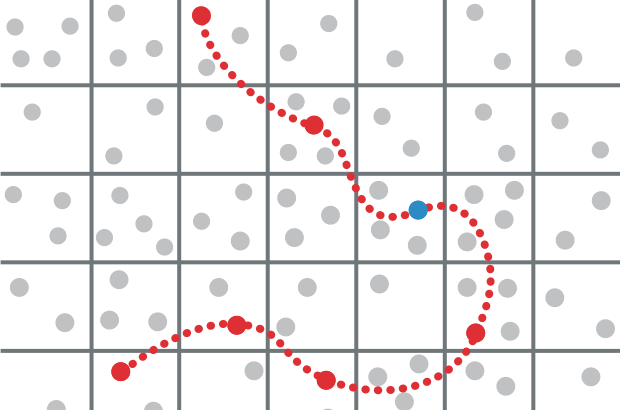 One of the biggest frustrations users sometimes have with GOV.UK is the difficulty of finding what they need - and discovering what they don't yet know they need - through site search and navigation.
We've made solving this problem one of our top priorities this year, and have a multidisciplinary team (the biggest single team on GOV.UK) dedicated to this work, appropriately called the Finding Things team.
Our end goal is to make GOV.UK joined up and really easy to understand. We want it to be easy for users to find the content that is most relevant to their needs irrespective of how they entered the site or their current understanding of the subject they are interested in.
This is a huge task that will require lots of departments and organisations across government to work together to implement appropriate content strategies and accurately categorise content. The prize for getting this right is equally huge as it makes good on the promise and potential of the single government domain where users no longer need to understand the structure of government to engage with it.
The team has been working since February to understand the main issues which prevent users finding what they need, and how to address each one. We've been blogging as we've gone along, see:
Background to the problem
GOV.UK grew and changed rapidly during transition in 2013 and 2014 as the web content of more than 350 government organisations came together on one site. It's now a large website (180,000 pages, up from 115,000 this time last year).
Now that the whole of government's content is in one place, we need to consolidate the navigation systems we built and review all the content again to join it up more effectively.
Defining the problem
There are 4 main categories of problem.
Our navigation is hard to understand
Currently, users have too many navigation choices to make and so they often don't feel confident that they are in the right place for them. We know from feedback and user research that people are getting stuck, or going round in circles, and some leave thinking GOV.UK doesn't have the information they need.
Internal search does not work as well as we need it to


GOV

.UK's current 

search system 

only works well for the most common needs.  More specialist searches tend 

to produce less relevant results, mixing content from different areas of the site 

in an unhelpful way.  Using structure such as subject areas would allow a focus 

on more relevant results.
Users don't know where they are in the site
There are many frequent users of GOV.UK, but the majority will use it very occasionally. They will often come from search engines and enter deep within the site without context - so we need to make it clear at a glance whether they're in the right place for their needs and if not how they get to where they need to be.
Our tagging systems aren't well understood by publishers
This is also a problem for the people who publish content onto GOV.UK. For example, currently a publisher has to intuitively know what a collection is, when to use it and how it differs from a topic. We need to make this easier to understand to ensure consistency in the site's navigation.
The plan to solve the problem
Put simply, there are three main steps:
Build a topic hierarchy (taxonomy) that covers all content on GOV.UK

Tag all content to this hierarchy

Use this hierarchy to support navigation, orientation and search
The complexity, of course, is in the details so I'll expand a little on each component part below with more detail to come soon in future blog posts.
Building a topic hierarchy for GOV.UK
We're planning to have one subject-based taxonomy for all content on GOV.UK - in other words, a single list of topics arranged into a tree-like hierarchical structure. All content, regardless of content type, will be tagged to at least one topic. The topics a piece of content is tagged to indicate what that content is about - and in the hierarchy related topics are grouped together.
We already have taxonomies on GOV.UK such as mainstream, policy areas and the topic hierarchy, introduced towards the end of the transition project. However none are comprehensive and they don't support each other in a constructive way.
The topic hierarchy, our chosen single taxonomy, currently only has a few hundred topic entries, meaning many areas of the site aren't yet represented. To represent all the content on GOV.UK we will need many thousands of topic tags. We plan to work very closely with content creators across government, subject matter experts and end users of content to expand the available list of topic tags.
Tagging content to the topic hierarchy
Most of the content on GOV.UK can already be tagged to topics, but only around 4% of it is. This is partly because we have only a limited range of topics right now, but also because the workflow and tools for tagging content to topics aren't as good as they need to be.
A common observation from our research with users of the publishing tools is that we aren't helping them understand what effect tagging a piece of content has on how it's shown on the site and in navigation structures.
To be done well, tagging needs to be well understood by the entire content community. This is both an application design challenge (for the publishing systems) and a communication and training challenge.
Use the hierarchy to support navigation, orientation and search
Multiple browse structures (mainstream browse, topics, policy areas, collections and previously detailed guide categories) are confusing to GOV.UK end users and publishers alike. A more consistent and joined up grouping will reduce the number of decisions GOV.UK users have to make when browsing the site and therefore make the site easier to understand.
The above outlines a large programme of work which is already well underway. Over the next few weeks we will be sharing more detail about each component part of this work as well as some of the lessons we've learnt along the way.