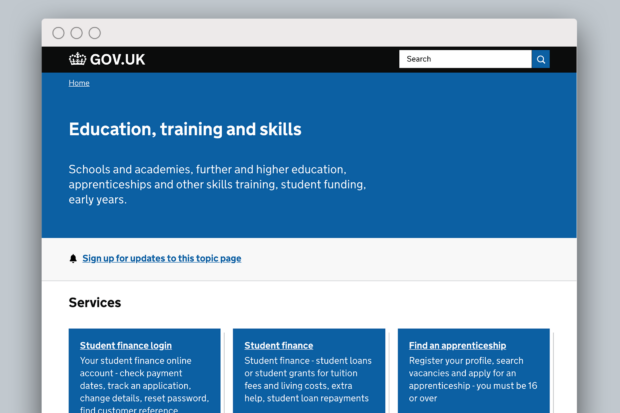 GOV.UK has a lot of content and more is published every day.
Some users can struggle to find what they need when they navigate through all this content.
To try and solve this problem, we launched the GOV.UK site-wide taxonomy. This is our way of organising content so it's easier to find and understand.
What we did
For this new site-wide taxonomy to work, we had to find a new way for users to navigate it to find what they need.
Our answer to this was to create topic pages, for example 'Education, training and skills'. These pages show content that belongs to every topic, at every level, of the taxonomy.
But our user research showed that users do not only think about topic when they are looking for something. They also think about the content type of the content they're searching for. Corporate reports, consultations and guidance are all examples of content types.
Because content types are important to users, we had to come up with a way of grouping content that would make sense to users who rely on content types to find what they need.
This resulted in a shortlist of content 'supergroups', which were organised according to what a user needs to do. For example, completing a transaction with government - like submitting a tax return - finding information published by government or holding government to account.
'Guidance and regulation', 'news and communication' and 'research and statistics' are examples of supergroups that allow us to organise content in this way.
We then made decisions around what gets shown on topic pages and in what order, based on the user needs for the content in each supergroup.
Things like guidance and transactions appear first because they're needed by the largest number of users. Things like consultations, corporate reports and news are provided further down, as they're needed by more specialist users.
Next steps
Topic pages are a work in progress. We're still measuring how they're being used and not all topics have been launched.
We'll continue to iterate and improve these pages. We'll be using analytics and usability testing to find out how users want to navigate through these pages and whether our content prioritisation works.
Mia is a designer on GOV.UK.