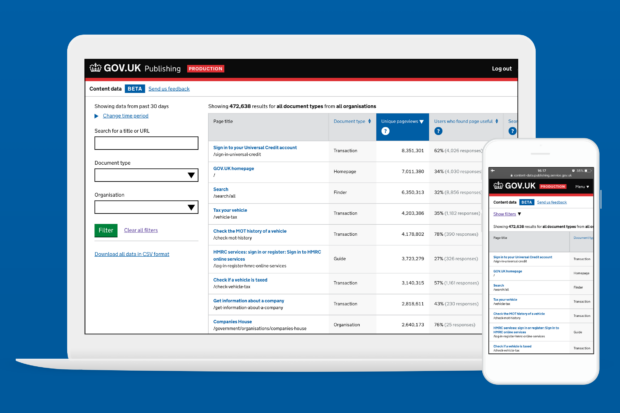 We've launched a new tool called Content Data.
It makes it a lot easier to find data about how GOV.UK content is performing. It provides data from sources such as Feedback Explorer, Google Analytics, and our site survey that asks 'is this page useful'.
Content Data is for everyone responsible for content on GOV.UK. Since we launched the tool on 30 April 2019, 550 users from almost half of all organisations who publish to GOV.UK have used it to view data about their content.
If you have a Signon account you now have access. You'll find Content Data in the list with the other GOV.UK publishing applications. If you don't have a Signon account, ask your organisation's managing editor.
We've worked closely with the team building Content Publisher and have taken a similar approach to developing our tools. Ben Hazell explained the approach both teams have taken in more detail in his blog post about Content Publisher.
Why we built Content Data
There are approximately 473,000 content items on GOV.UK and that number is getting bigger. Government organisations are publishing around 2,500 new content items per month. Until now we haven't given publishers the tools to manage that volume of content effectively.
The large amount of content means it can be hard for users to find the most up-to-date thing. They can be confused by older or similarly named content. Also, a lot of this content is never or rarely looked at. Over 30% of GOV.UK content had less than 10 pageviews in the past year.
There are 3 main problems we're aiming to solve with the Content Data tool.
Knowing what content an organisation is responsible for
The first problem Content Data solves is that it is time consuming for content teams in government to keep track of all the content their organisation is responsible for effectively.
There are a number of publishing tools on GOV.UK. Content designers and publishers working on GOV.UK will be looking after content in some or all of these publishing tools. This meant it took lots of manual effort for an organisation to get a list of all its GOV.UK content in one place.
Content Data provides a list of all content in one place, regardless of where it was published. Users can now:
search by title or URL
filter by document type
filter by organisation
This functionality helps content designers and publishers to identify which content work to prioritise. When there are several competing urgent requests or content teams need to identify content that needs improving, Content Data can help determine which work will have the biggest impact on users.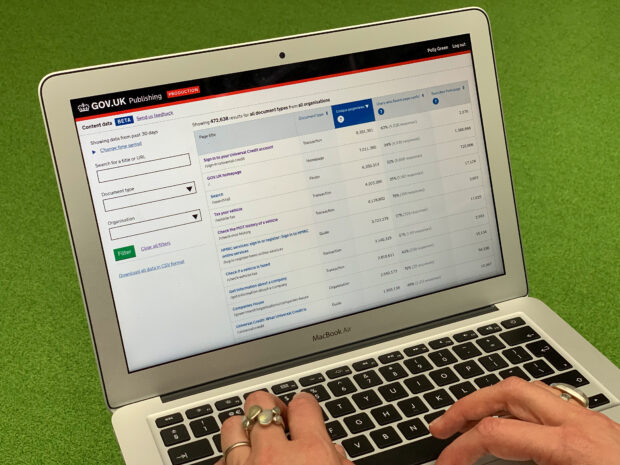 Accessing data about content
The second problem Content Data solves is the difficulty content teams have accessing data about content.
Previously, to get data about the performance of content, content designers and publishers would need access to Google Analytics and would need to be familiar with it.
We know from research that lots of people in the content community either don't have access to Google Analytics or find it difficult to navigate because Google Analytics has lots of features and metrics.
Even content designers and publishers who are very proficient in Google Analytics can find it time consuming to get the data they need. This is time that can compete with high demand from stakeholders to edit and publish content quickly.
Content Data provides a number of Google Analytics metrics for a piece of content in one place.
For a chosen period of time this includes:
unique pageviews - this helps our users see how many people are getting to the content and can help identify when to work on content that has seasonal peaks
searches from the page - users can see how many people have used internal search when they're on a GOV.UK page
Then we give reading time: how long it would take to read every word on the page at an average reading speed. For example, one of the longest pieces of content on GOV.UK would take 8 hours 6 minutes to read.
Accessing feedback from GOV.UK users
The third problem we're trying to solve is access to feedback from GOV.UK users.
Users can leave feedback comments on every GOV.UK page but content designers have to go to a separate GOV.UK application - Feedback Explorer - to see how many comments users have left on a page.
We also ask users on every page of GOV.UK 'is this page useful' but previously we did not make it easy for content designers to see the number of responses and the percentage answering 'yes' to this survey.
In Content Data, we give the number of feedback comments left on a page over time and we link through to Feedback Explorer to show the comments themselves.
We show what percentage of users answered 'yes' to the 'is this page useful' survey.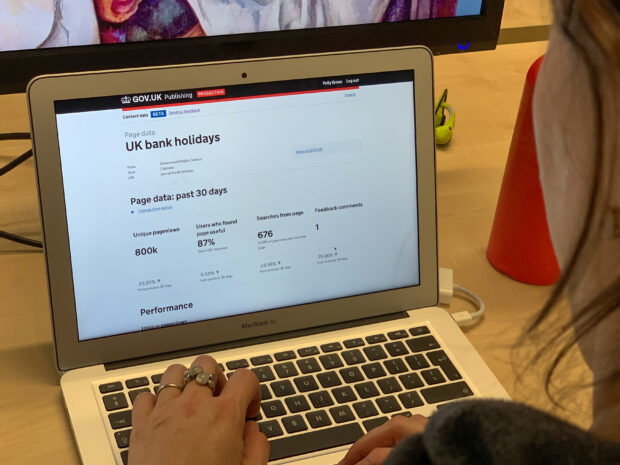 What you can do with Content Data
The important thing about having access to this data is that it will help people publishing to GOV.UK to make decisions about content they are working on, prioritise their work and manage content over time.
It will also be valuable to policy teams and subject matter experts: Content Data can help them understand how well content is performing and what users find most useful.
Content colleagues from organisations that participated in our private beta have given us examples of how they've used Content Data.
Establishing baseline measures
Colleagues at the Charity Commission have created baseline measures to help them understand the impact of their content improvement projects by combining data from Content Data and Whitehall Publisher. This has helped them answer these questions:
Are people looking at Charity Commission content (average unique views per month - from Content Data)?
Is Charity Commission information up to date (first published and last updated - from Whitehall Publisher)?
What formats can people view our content in (attachment format - PDF, HTML, Word, Excel, Open Document Format - from Whitehall Publisher and Content Data)?
Is the length of Charity Commission content suitable for its audience (reading time metric from Content Data)?
Reading time can be useful for changing subject matter experts' minds. You can use a long reading time to show that content is so lengthy that it would take users an unreasonable amount of time to read it. One of our research participants said:
Reading time might be useful to take to a subject matter expert: 'That's actually a really long read. Is there anything we can do to shorten it?'
It becomes possible to push back on requests to publish content that users don't need when you have the data.
Content audits and quick fixes
The Driver and Vehicle Standards Agency has used Content Data to help improve content and do an audit to prepare for creating new content. Its managing editor, John Ploughman, said:
Using the Content Data app has made it so much easier to spot quick fixes that we've been able to make to content. For example, we've been able to look at user satisfaction scores and searches from the page, and quickly identify where a related link on a piece of content would help users.

It's not just been quick fixes, though. We've used the Content Data app to help to audit all the content that sits within a step-by-step navigation we want to work with GDS to build. We'd done this before without the Content Data app, and it took quite a long time. Having most of the data we need in one single place has been a huge timesaver.
Identifying content in PDF format
Department for Transport are also using the tool to identify pages that have PDF files attached to them. They are prioritising the most frequently visited pages with PDF files (highest number of unique pageviews) then converting those PDFs to HTML or at least making them accessible.
Monitoring the performance of EU Exit content
The Department for Transport used the Content Data tool to review the performance of a new guide to international driving permits (IDPs) for UK drivers. The tool showed them that people visiting the guide went on to search for 'how to get an IDP' - content which appeared towards the end of the guide. The team moved the information about how to get an IDP up the page to make it more prominent.
These are just a few examples of how data can help content teams.
The Content Community team in GDS is developing training on how to use data to manage content.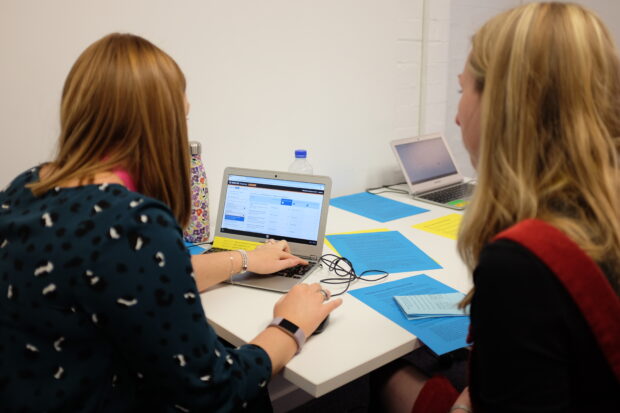 What we're doing next
Now we're in public beta and everyone has access to the tool, we'll continue to collect users' feedback.
Over the next few weeks we're working on showing mainstream content when users filter by their organisation. At the moment, mainstream content all appears under GDS because GDS is the primary publishing organisation.
We're going to add links from the Whitehall publishing tool and the new Content Publisher tool to Content Data to make it even quicker for users to get data about the content they're working on.
Give us feedback!
If it's relevant to your work, please do use the tool and give us feedback - we're continuing to collect your feedback now we're in public beta.
Thanks to our private beta participants
We couldn't have built Content Data without our private beta participants. We used the insight we got from their feedback and carrying out research with them to prioritise features and metrics in the tool, so a big thank you to these organisations:
Charity Commission
Department for Business, Energy and Industrial Strategy
Department for Education
Department for Environment, Food and Rural Affairs
Department for International Trade
Department for Transport
Department for Work and Pensions
Department of Health and Social Care
Driver and Vehicle Licensing Agency
Driver and Vehicle Standards Agency
Foreign and Commonwealth Office
HM Revenue and Customs
Home Office and UK Visas and Immigration