At the bottom of most pages on GOV.UK, we ask 'Is there anything wrong with this page?'. We collect the responses anonymously, in our Feedback explorer tool, sometimes called Feedex.
These responses help content designers and publishers fix what's wrong and collect data on where people are having problems. But the tool is pretty basic.
During the pre-election period we spoke to content designers about how to improve Feedback explorer, and watched them using it. The improvements we came up with are now live.
We've made it easier to:
export feedback
see comments arranged by organisation
see comments between specific dates
If you publish on GOV.UK, you should have access to the Feedback explorer. If you don't, raise a support request and we'll give you access. If you don't publish on GOV.UK and would like access, have your GOV.UK lead raise a support request.
See feedback for a specific page
If you search feedback by URL, you will get an exportable list of all comments on that page. This can help, particularly on popular pages. For example, Renew your vehicle tax gets about 60 comments a week. Some are spam, but many of these comments flag phone numbers that don't work and information users can't find.
You can get all feedback across multi-page content by using just the first part of the URL. For example, www.gov.uk/check-uk-visa will give you feedback on all pages for the smart answer. And www.gov.uk/child-tax-credit will give you feedback on all pages in the guide.
Identify problems in your organisation's content
We've added the ability to filter feedback by organisation. Search by an organisation then click through the 'All feedback for (your organisation)' link to download.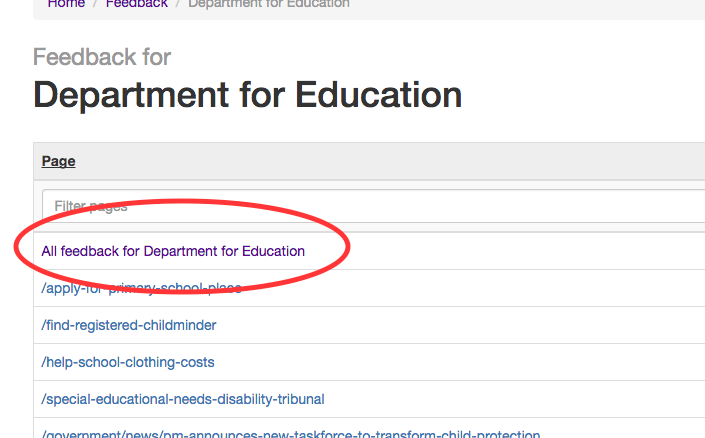 From there, you can export all your comments as a CSV file, or filter by date and then export. If you open the CSV file from Excel, or any other spreadsheet programme, you'll see further information on what type of browsers people were using. You can also then sort and work with your feedback in a spreadsheet.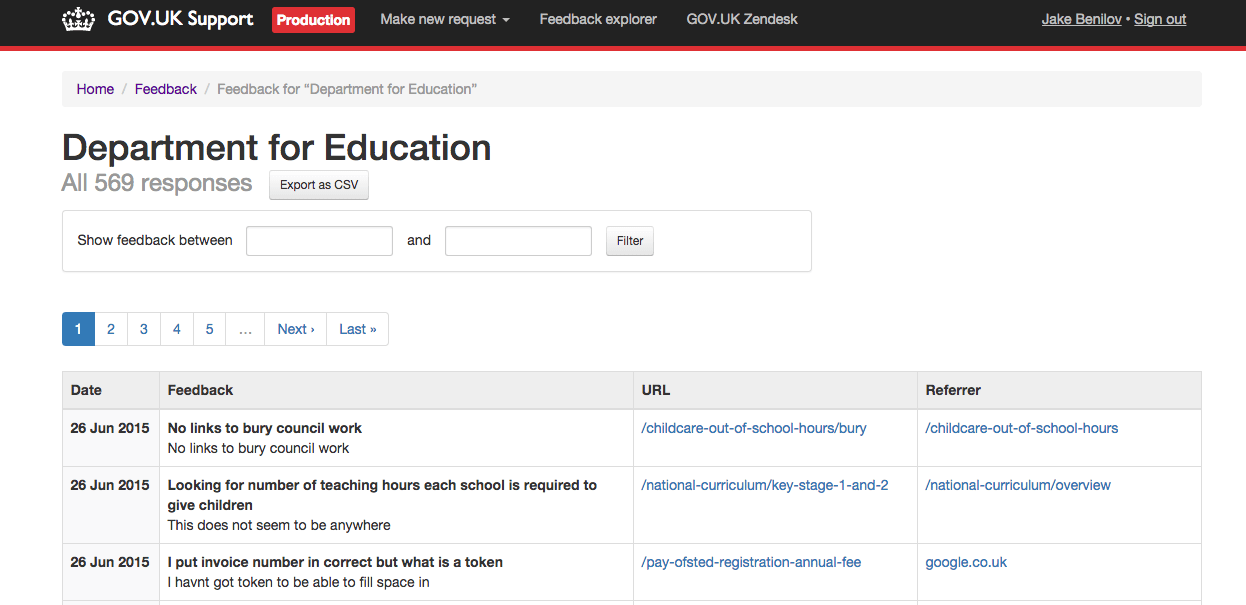 We know many of you want to see only Whitehall content for your organisation. We haven't built this yet, but we have a hack. If you are on the screen above, you can add &path=/government to the end of the URL in your browser, and it will filter the results. Be aware that this hack doesn't include feedback for detailed guides.
Analysing service feedback
If you look at feedback on the 'done' page of a service the comments will look a bit different. That's because there's a user satisfaction survey on the last page of the service. If you look up feedback on /done/register-to-vote, you'll get ratings and feedback from people who have registered to vote on GOV.UK. You can filter by time periods before you export, to run monthly or weekly reports.
You'll find that the CSV export puts all the data (rating, comment, browser details) in separate columns, to make it easier to sort, filter and pivot. You can see just the submissions with comments by filtering out the empty feedback column in the spreadsheet.
The 'done' pages export sometimes includes standard feedback from 'Is there anything wrong with this page'. You can exclude this information in the spreadsheet by using the 'type' column (the last column in the spreadsheet).
Next improvements
We're also looking at ways to improve the quality and quantity of the feedback we collect. We tested a new structure for the feedback form on some popular pages, and we're analysing the results now. We'll blog about it as soon as we have the findings.
Before we made any changes to the explorer, we learned how publishers would like the tool to work. These improvements were what we could build in the time we had for this improvement theme.
When we make further improvements to the feedback explorer, we'll add more columns to the CSV export (eg the publishing tool, content format). That way you'll be able to slice and filter the feedback in more ways, to get only what's relevant to you. We'll also look into adding notes on the feedback, to let others in your department know when something's been fixed.
Jake Benilov is a developer on GOV.UK. Keep in touch: follow Jake on Twitter and subscribe to email alerts from this blog.