When we first created GOV.UK we did it based on the assumption that users shouldn't need to know who provides a service to be able to use it. Users just want to complete a task - they shouldn't have to navigate content based on organisational lines.
We noticed an area of GOV.UK where we weren't following this rule. The way we published worldwide content was making it difficult for users to find UK government help or services abroad.
We realised this needed to change. So we worked with the Foreign and Commonwealth Office (FCO) and their overseas posts to improve this content for users.
The old world
Embassy pages were long and difficult to navigate. They were also ranking highly on Google for search terms relating to help and services that the embassy doesn't offer.
For example, if you searched for 'lost passport in France' the French embassy page would be the top search result. This is misleading because if you lose your passport you need to get an emergency travel document or report the passport as lost, not contact the embassy.
This mean that users would pick up the phone and contact the embassy rather than finding the service they need online.
Working out how to change the world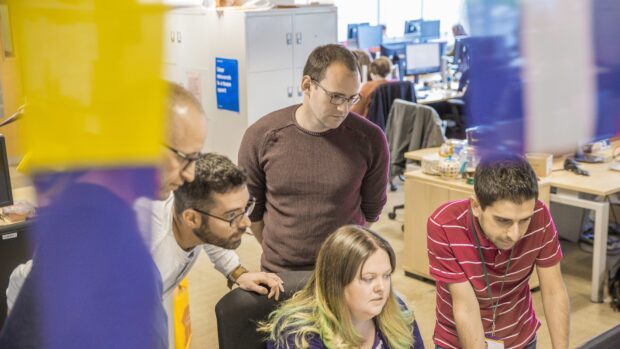 We looked at the most used content, most calls to embassy contact centres and what the taxonomy team had learnt when creating the education taxonomy.
We reduced the content on embassy pages to focus solely on services the embassy did offer.
We also did some card sorting, to find the most logical way of grouping all of the remaining content.
Our approach was to try and collate content around task themes, such as coming to the UK or getting urgent help abroad.
We eventually came up with 10 navigation categories, ranging from 'coming to the UK' to 'emergency help for British nationals'.
A/B and user testing
We needed to test this approach to see if it worked, so we did some A/B testing.
We built navigation pages for 7 countries and tagged all the content a user might need to get help or do a thing in that country. We also simplified the content on over 200 embassy pages.
We showed these variants to 50% of users.
The test results were very positive. Users of the new content were less likely to visit an embassy page and more likely to complete their task online.
In our usability testing, we gave our testers a task about contacting UK Visas and Immigration (UKVI).
The task:
An Australian friend has applied for a visa to work in the UK but needs to speak to somebody about their application. What phone number should they call?
In the previous version of the content, people gave different answers that were all numbers for the diplomatic mission - be it a consulate, high commission or embassy. In the new version, people went to the UKVI contact pages and found the correct number.
Based on these results, we decided to roll out the approach to all the worldwide content.
The new world
We worked closely with FCO to simplify the content for all 239 embassy pages. The content on these pages now only contains information about help that the embassy can actually provide.
The rest of the content that used to live on embassy pages has been moved to the new navigation pages. We've built a navigation page for each country - you can see an example of what they look like.
These pages contain everything a user would need to do a thing or get help in the country they're visiting or living in. This means they don't need to go to a specific embassy page to get help.
Each country still has its own news page.
What happens next
We're monitoring how this content is performing. So far it looks like users are finding what they need online, which is great.
Lucy, Gabrielle and Joe all worked on the Worldwide team at GOV.UK.