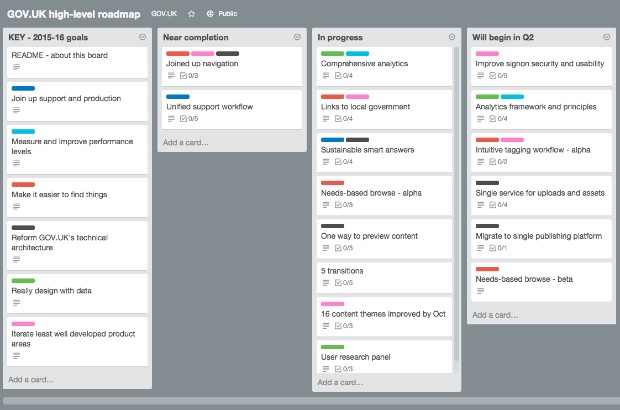 Following on from the recent trio of posts in which we talked about the operating context, team structure and goals for GOV.UK in 2015 to 2016, we've now completed the work to plan a high-level roadmap for 9 months ahead.
The roadmap shows the significant missions (or outcomes) we currently expect to achieve between now and the end of the financial year, to improve GOV.UK and the service we provide to end users and our government colleagues.
Missions
Each mission is colour-coded to show which goals it supports.
Click on a mission to read about the challenge that needs to be addressed, and a definition of when it will be considered done.
We'll add details of how we're measuring the success of each mission, as they're worked on.
Frequency of updates
The board will be updated at least fortnightly to reflect current progress and delivery expectations.
It will be a true reflection of our intentions at any given time, but shouldn't be mistaken for a Gantt chart.
We can't know:
how much technical maintenance work, and how many urgent and important requests from government colleagues, we'll need to work on in any period instead of these missions
how big the work on these missions will turn out to be once started
whether new evidence of user need will result in other missions more important than those we've currently planned to do
Things change around us, and so our plans are agile. Items on the left are more certain than those on the right, and the roadmap as a whole will be thoroughly reviewed every quarter.
Delivery progress and near-term plans
For progress reports and nearer-term plans, at the more detailed level of features and content projects, stay tuned to our fortnightly "What we're working on" blog posts.
If you want to delve even deeper, you can also look at the detailed user stories in any of the GOV.UK team's backlogs:
Content backlog (currently only shared with other government organisations)
In combination, the vision and goals, high-level roadmap, what we're working on posts and team backlogs tell the full story of what we're prioritising, at different levels of detail.
Feedback
We welcome any feedback, both on the substance of these plans and on how we're communicating them.
If working in the open like this appeals to you, take a look at Working for GDS – we're often in search of talented people to come and join the team.
Neil Williams is the Product Lead on GOV.UK