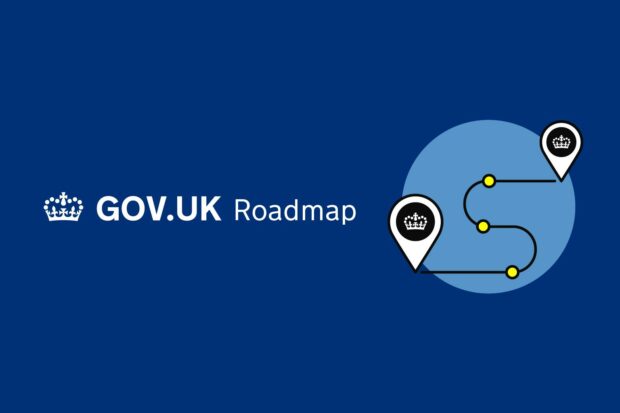 We relaunched GOV.UK's public roadmap in February this year. The roadmap reflected our priorities for the 2020 to 2021 financial year, and was designed to be a "living document" that was routinely updated.
This is the first of those updates. It supports the Government Digital Service's (GDS) strategy for 2021 to 2024, which was published last week.
This blog post explains the design iteration between this roadmap and the previous version, highlights just some of what's coming up, and explains how we'll be updating the roadmap in the future.
Changes to the roadmap design and structure
Since relaunching the roadmap, we've been doing lots of planning about what GOV.UK needs to prioritise in the 2021 to 2022 financial year. The new design, structure and activity added to the roadmap demonstrates this thinking. It's an exciting year ahead for GOV.UK and our roadmap shows our ambitious plans.
We've changed the design of the roadmap to make sure people can find out more detail about our work if they're interested. There are links to blog posts on individual roadmap items, and we've added in a section at the top with links to our latest strategy blog post, our recruitment page and the Inside GOV.UK blog. The data on usage of GOV.UK has moved to the end of the page.
When we launched in February, people shared the roadmap on social media. In response, we've also added social media sharing buttons to the page.
GOV.UK's 5 objectives for 2021 to 2022
Jen Allum, Head of GOV.UK, recently reiterated our strategic vision: to provide personalised, trusted and joined-up interactions for users on GOV.UK. To implement the GOV.UK vision, she set out 5 objectives for this year, so we've also altered the roadmap structure to correspond with those objectives.
Here we'll explain a little bit more about each one and highlight just some of the work happening in each area.
Always be available, accessible and accurate
This objective is about ensuring that GOV.UK is resilient under demand, performing well for everyone, and always reflecting accurate information. The work in this part of GOV.UK really provides the foundations for our developments across the programme.
This is a significant part of the programme as it covers content design, publishing and platform operations alongside our work on accessibility (which cuts across all of these areas).
This objective includes improving navigation across GOV.UK and making design changes to the homepage. We'll also be updating and optimising the most popular content, and developing new publishing tools.
Support the government's priorities of the day
As GOV.UK must reflect what users need to know about the issues of the day, it's not a surprise that our work in this section is focused on Brexit and coronavirus (COVID-19). We must continue to provide accurate and up to date information about these 2 priorities, to make sure users know what they need to do, and when.
Also under this objective is our work on "whole user journeys". These are complex cross-government tasks, like starting and sustaining a business. We're looking at ways to improve how business owners can discover and access the information and services they need.
Connect insights across GOV.UK to enable joined-up service delivery
Our third objective is about making sure our work continues to be enabled and driven by data.
Data insights can be used to show what is and what isn't working on GOV.UK, allowing teams to optimise policy, content and services for users. These patterns and trends can clearly indicate where improvements can be made on an item-by-item basis.
But we can also use this data broadly. It can inform how we design for end-to-end journeys that cut across different departments and their services, creating an improved experience for people visiting GOV.UK over multiple steps and sessions. We're doing this work with data privacy and security at the forefront of our minds.
Provide a personalised and proactive service
Moving to a personalised and proactive service, rather than one where users start from scratch each time they come to GOV.UK, is a big focus of our work over this financial year.
We've been blogging lots about how we're developing a GOV.UK Account to support this work, including how the trial on the transition checker has gone so far. Over the next 12 months, we want to advance our work here to expand it across more of the GOV.UK service.
Under this objective is also our work to develop structured content on GOV.UK, to help offer a personalised experience on GOV.UK.
Be channel agnostic
People increasingly see GOV.UK content on platforms other than the GOV.UK website. This might be through a search engine or a voice assistant. We want to make sure that we're doing what's needed to make sure our content can be reliably accessed through these different channels.
We're using schema.org to make sure our content can be used elsewhere, for example by search engines at election time or to help the response to the pandemic recovery. We plan on working with other third parties over the coming months to think about ways we can make sure users find what they need at their point of need whatever the device or channel.
Response to the roadmap relaunch
We've been delighted with the response to February's roadmap relaunch. We received great feedback, so thank you so much if you made time to give us your thoughts and questions. We've been contacted by other public sector organisations and governments, and have had interesting conversations off the back of it.
We want to keep the conversation going, so please keep in touch about the roadmap. You can email the GOV.UK team, or post a comment below.
What's next
As this financial year progresses, we'll be periodically updating the roadmap with the next iteration due in autumn. However, we won't necessarily be writing a blog post each time we amend it. To help keep people informed on when the roadmap last changed, we've added a "Last updated" tag at the foot of the page.
Please let us know if you have any questions, and definitely look out for the next update to the roadmap. Meanwhile, please subscribe to Inside GOV.UK to keep up to date with what we're up to.